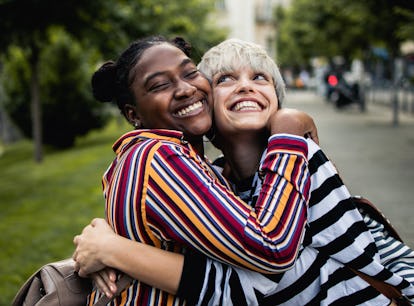 The October 2023 Lunar Eclipse Will Affect 4 Zodiac Signs Most
Eclipse season tends to be full of surprises. When it happens during Scorpio season, though, there's not always a sense of enthusiasm when it comes to all the newfound changes. As the fixed water sign of the zodiac, the Scorpion emphasizes the desire to dig your heels in when it comes to adjusting to anything outside of your control. You may even find yourself catering less to your desires and exercising more self-control as a way to accomplish your goals and ambitions. However, as the October 2023 partial lunar eclipse unfolds, everyone will be invited to acknowledge what they've unintentionally deprived themselves of — especially the four signs most affected by the last eclipse of the year.
While Scorpio season's placed plenty of emphasis on emotional control and self-discipline, it may have prompted you to neglect your desire to indulge in the finer things in life. But the four fixed signs of the zodiac will be shifting their attention toward comfort and satisfaction rather than restraint and scarcity amid the next eclipse.
What's A Partial Lunar Eclipse?
Lunar eclipses take place when a full moon occurs the same time the Earth, sun, and moon are all in alignment, causing Earth's shadow to fall across the moon's surface. This only happens up to three times every year, making lunar eclipses rare, supercharged full moons. This month's lunation in particular is considered to be a partial lunar eclipse, meaning that the three celestial bodies won't be entirely in alignment, causing the moon to only be partially covered by Earth's shadow.
When Does The October 2023 Lunar Eclipse Take Place?
On Oct. 28 at 4:24 p.m. EST, the partial lunar eclipse in Taurus will take place at 5 degrees, illuminating every sign's desire for increased tangible support, comfort, and security. If you've been neglecting your need for concrete pleasure, this will be the time to refocus your efforts on these desires. Whether it's money, food, or any other palpable resource, this eclipse will remind you to say yes to what you've been craving, especially if it's tied to your livelihood, well-being, and quality of life.
Here's how Taurus, Leo, Scorpio, and Aquarius will be affected by the upcoming October lunar eclipse:
Taurus Zodiac Signs (April 19 - May 21)
On Oct. 28, the lunar eclipse will illuminate your first house of self-expression, bringing your personal needs and desires to the forefront of your awareness. How can you live a more satisfying a fulfilling life, Taurus? You may find that it requires you to unplug from relationships or connections that are rooted in fear, lack, or scarcity. As your needs make themselves known, make sure that you give them your undivided attention. Put yourself first.
Leo Zodiac Signs (July 20 - Aug. 21)
As the Taurus lunar eclipse unfolds, your desire for increased stability and satisfaction in your profession will be illuminated. You may gain sudden acknowledgement in your career, or be making significant changes that support your need for continued success in your occupation. How can you further lean into the security that your public image is providing you, in Leo? Consider what you require in order to feel more safe and supported in this area of your life.
Scorpio Zodiac Signs (Oct. 21 - Nov. 22)
On Oct. 28, the Taurus lunar eclipse sheds light on your romantic relationships, asking that you lean into the reliable and supportive connections you've developed here. While you tend to move with caution, this eclipse is encouraging you to venture outside your comfort zone and into the arms of those who offer you plenty of comfort and satisfaction. Today, you may find yourself in more vulnerable situations with others, but it's a reminder of how important your deep, intimate bonds with others are for your wellbeing.
Aquarius Zodiac Signs (Jan. 20 - Feb. 19)
This month, you'll be focusing your efforts on indulging in the comforts that your home and domestic life has to offer. While you may not be feeling particularly social today, you'll be enjoying yourself from the privacy of your own home. You may also be considering how you can increase the satisfaction your natural habitat offers you, as this eclipse unfolds in your fourth house. Are you currently satisfied with your immediate environment? If not, you'll be called to make adjustments that support your need for luxury here.