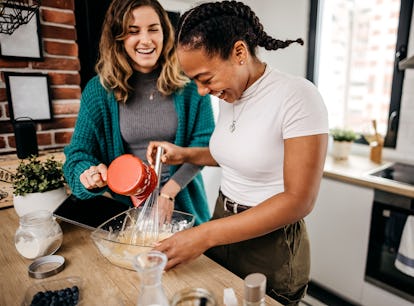 10 TikTok Valentine's Day Breakfast Ideas Including Bacon Roses And Cinnamon Roll Hearts
Breakfast in bed just got more heart-shaped.
enigma_images/E+/Getty Images
One of the cutest Valentine's Day traditions is to make breakfast for your partner. After all, breakfast is the most important meal of the day and a great way to kickstart a day that's full of love. While your go-to may be pancakes, bacon, and eggs, there are some fresh Valentine's Day breakfast ideas on TikTok to take your fave foods to the next level. For instance, instead of serving just waffles, you could be serving your sweetheart some heart-shaped waffles they'll love a waffle lot.
TikTok is always a great resource for Insta-worthy recipes that look as good as they taste. You can always count on TikTokers for taking something as simple as apple slices and making something gorgeous like an edible rose out of them. Since it's Valentine's Day, many of these 10 TikTok recipes also include heart-shaped designs and red food coloring to match the cupid mood. You just need to decide on what dishes to serve out of these Valentine's Day breakfast ideas on the FYP.
Making these Valentine's Day recipes can be a cute way to spend time with your partner in the morning, or a fun way to surprise them with breakfast in bed. Whatever plans you have for Feb. 14, you'll be able to find some Valentine's Day breakfast ideas that are eggcellent.