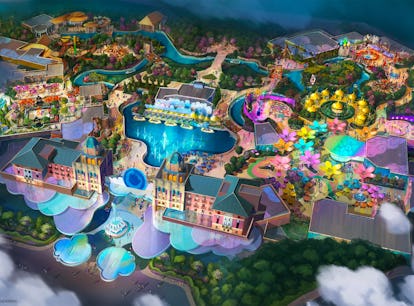 Universal Studios Is Opening A Magical New Theme Park In Texas
It'll be unlike any other Universal Studios park.
Courtesy of Universal Parks & Resorts
Universal Studios recently revealed some big plans are in the works. In addition to a Halloween Horror Nights experience coming to Las Vegas that'll be open year-round, Universal Studios is opening a new theme park in Frisco, Texas. The "one-of-a-kind theme park" is Universal's first venture in the Southwest, and it will be unlike the Hollywood and Orlando parks in one major way.
This isn't the only new theme park Universal is currently working on. ICYMI, back in 2019, Universal Parks & Resorts announced a third theme park for the Universal Orlando Resort. Universal's Epic Universe will feature themed lands that will "create an entirely new level of experience" for guests. Universal really changed the game when they opened the Wizarding World of Harry Potter back in 2010, taking theme parks to the next level by creating an interactive and immersive land that really made you feel like you stepped inside the world of Harry Potter. It seems Epic Universe will expand on that even further with more unique themed lands. And while Epic Universe will be on a 750-acre site, Universal Studios Frisco in Texas will be located at a much smaller property with just 97 acres. However, the theme park planned for Texas will still be packed with just as much fun as any other Universal Studios park.
What Will The Universal Studios Theme Park Coming To Texas Be Like?
There is one massive difference between the Universal Studios park in Frisco versus the parks currently in Hollywood, Orlando, and Japan. According to the press release, the new park will be "designed to be more intimate and engaging for younger audiences." That basically means you won't see as many roller coasters as you do at Universal Orlando, and Universal will most likely be focusing on their properties that are more family-friendly. At most Universal Studios parks, you can already find the Minions and DreamWorks Animation characters like Shrek walking around, so it's likely that these characters will be the main focus in Texas.
Aside from character meet and greets, the Universal Studios Frisco park will also feature family-friendly rides, interactive shows, and exciting food and beverage venues. There will also be "unique merchandise" for purchase, because was it really a theme park day if you didn't go home with tons of souvenirs? While these attractions will be geared towards a younger audience, the entire family can enjoy them. Universal has also said, "Although smaller in size, it will still carry the same quality as Universal's other larger resort destinations."
Just like other resort destinations, Universal also has plans to build an "adjacent themed hotel" too. They will also have "room for expansion" to bring even more fun to Texas. After all, everything is bigger in Texas. Universal hopes with this park that they'll be able to attract a new audience of people who might not be able to travel to Orlando or Hollywood to experience a Universal theme park themselves.
When Is Universal Studios Frisco Opening?
Unfortunately, Universal Parks & Resorts has not announced any dates yet for their Southwest expansion. They also didn't announce any dates for their Halloween Horror Nights-inspired park that was revealed on the same day. Anyone near Frisco, Texas can keep an eye on the progress. The press release revealed that the location of the new park will be "east of the Dallas North Tollway and north of Panther Creek Parkway."
In the meantime, you can always plan a trip to Universal Studios Hollywood to check out the Super Nintendo World when it opens Feb. 17 or visit Universal Orlando Resort this summer. They have plans to open a Minions-themed ride called Illumination's Villain-Con Minion Blast. As an interactive, blaster game ride, it'll be similar to the fan-favorite Men in Black: Alien Attack attraction at Universal Studios Florida. Since it's Minions-themed, there's definitely a chance a similar ride will be available at the Universal Studios park in Texas. The concept art doesn't reveal too much, but certain lands definitely look like they could be a part of certain movies. For instance the bottom right looks like a Trolls-themed land, while the top right could be Shrek-themed. There looks to be a Dragon ride, but that could be for Shrek or How to Train Your Dragon. Either way, either option would be a very exciting addition to Universal Studios.