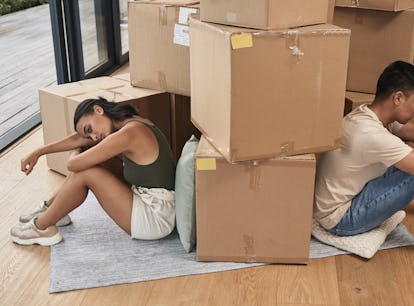 These 15 Red Flags Might Mean Your Roommate Relationship Is Toxic
PeopleImages/E+/Getty Images
No offense to mom or dad, but there's nothing better than living on your own — that is, unless your income requires you to get a roomie and things go south. You can't always tell if your roommate is controlling or toxic right off the bat, especially if you've never experienced something like that before. A toxic roommate can be particularly difficult to spot if they're an acquaintance or a stranger — toxic behaviors are rarely obvious on first impression — but you might be surprised to see these behaviors even in a good friend-turned-roommate. You see people in a new light when you live with them.
But there's a difference between someone constantly leaving unwashed dishes for you to clean and someone who is actually toxic. According to doctor of psychology and licensed clinical social worker Dr. Danielle Forshee, LLC, a toxic person can be defined as "someone who violates personal boundaries physically, emotionally, or psychologically." Oftentimes, she tells Elite Daily, these types of people are "passive aggressive, or act in ways that make it difficult to assess their genuineness."
There are a few ways to go about dealing with a toxic roommate. "I believe that the best path for a successful roommate experience is open communication," Jennifer Panning, a licensed clinical psychologist Mindful Psychology Associates, tells Elite Daily. Forshee echoes this note, adding that it's very important to address the toxicity with the other person first, "before making any assumptions or moves," like packing your bags and leaving them stranded without forking over half the rent as payback.
"Point out the situation," Forshee continues, "then say how you feel about them, ask open-ended questions to understand their perspective, and then tell them what you need." Imagine structuring the conversation like you would an essay: State your case, back up your claim, and make a closing argument you both can work with. Even if you hate confrontation, these types of conversations are necessary when it comes to creating a happy home for yourself.
Here are a few telltale signs your roommate doesn't like you and is toxic to be around.
Experts:
Dr. Danielle Forshee, LLC, doctor of psychology and licensed clinical social worker
Clarissa Silva, behavioral scientist and creator of Your Happiness Hypothesis Method
Kati Morton, licensed marriage and family therapist
Dr. Carolina Castaños, Ph.D., LMFT
Dr. Marisa Franco, Ph.D., psychologist and friendship expert
This article was originally published on