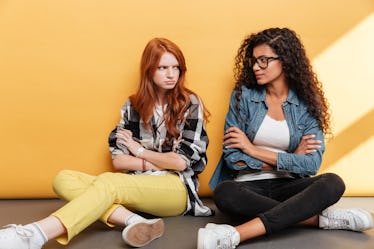 Here's What It Really Means If You Never Argue With Your Best Friend
Confrontation can be a drag, but if the person spewing emotionally-infused words at you is your ride or die, you ought to suck it up and weather the storm at times. Arguing is a different rodeo when it comes to your best friend. Two people who falsely and hesitantly agree with each other to avoid arguing are not in a real kinship. Don't fear arguing with your best friend, because whether you agree or settle on your differences, you two will be back braiding each other's hair soon enough.
Arguing has this bad rap for being a jumble of yelling. It really is just two people pleading their case on an issue they aren't seeing eye-to-eye on. You and your BFF aren't going to always agree, but many times it's your differences — although they may collide — that make you such a dynamic duo.
A friendship is a type of relationship, and it's a little investment of your emotions that is going to be expressed in more ways than one. You'll know that you and your BFF are the real deal if you can hash out a huge argument, but still end up holding hands. You aren't pushing your BFF away by arguing; in fact, you're solidifying their place in your life and the two of you are benefiting from it in so many ways.