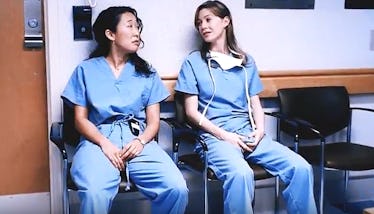 8 TV Best Friend Fights From Our Fave Shows That Broke Us & Were Relatable AF
Hey, that's my best friend. That's my best friend. You know those amazing shows that had that one pair of best friends who were simply golden? We loved their friendship and wanted to have that same bond with a person in our own lives. But when that turbulence between them was active, we totally lost it. Those TV best friend fights from some of our favorite shows took a toll on us IRL. Seriously, the struggle was all too real.
The reason why they were so impacting is that these little fights were reasonable and we could totally see them happening with our best friends. Believe it or not, these TV faves actually tried to depict situations that us viewers could see ourselves experiencing. In that way, we were hugging the hell out of our own BFFs when the ones we admired on TV were at each other's throats.
Many of these fights blew over, but when they were unfolding in front of our eyes, it was way too agonizing for words. Whether your show was an hour or 30 minutes long, nothing else mattered except those moments when your favorite pals weren't on good terms. And while I hate to bring up old TV scars, these temporary BFF fallouts are worth mentioning, so that they never happen again.