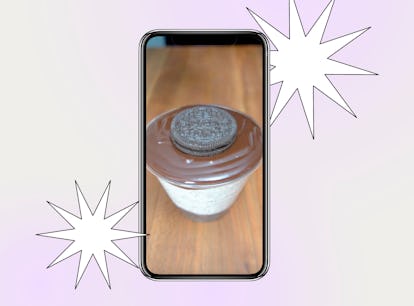 You'll Love These TikTok Dessert Recipes Using Oreos A Choco-Lot
I never knew I needed Oreo sushi until now.
Oreos are not just milk's favorite cookie — it seems like they're TikTok's as well. You can find tons of TikTok recipes using Oreos just by scrolling through your "For You" page — even Oreos with mustard. From waffles to mug cakes, Oreo recipes seem to be trending often. As an Oreo lover, you know you want to try them all, so if you consider yourself an at-home baker, it's time to get to the kitchen to start your very own Oreo TikTok journey.
There's so much to love about Oreos. They've got the delicious chocolate cookies on the outside and tasty AF vanilla cream on the inside. They're also great on their own, and even better dunked in milk. It makes sense that so many TikTokers would be experimenting with Oreos to see what other delicious treats they can make. Since there are at least these 10 Oreo desserts on TikTok, you could even plan out an entire Oreo week (and then some) of fun. Make the super trendy mug cake on Monday with your go-to cup of coffee, and finish out the weekend with some edible Oreo cookie dough for your roomie movie night snack. This is your Oreo journey, so start wherever your tastebuds are leaning.
This article was originally published on