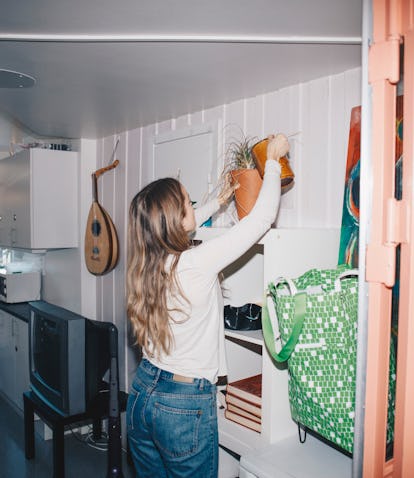 These TikTok Dollar Store Decor Hacks Are A Sweet Deal For Your Dorm Room
Maskot/Maskot/Getty Images
With a new semester right around the corner, it's time to figure out how you're going to decorate your dorm room with your ideal aesthetic — and keep it all within your budget. After all, this is going to be your corner on campus; a space where you can kick back after a long day of study sessions, café meet-ups, extracurricular activities, and bonding with your new BFFs. While you might need to splurge on essentials like a comforter and desk lamp, TikTok has you covered when it comes to saving on statement decor pieces that you can score for just $1. Here are some of TikTok's best dollar store decor hacks that'll upgrade your space for a fraction of the cost.
While you may need to spend more on high-ticket items like a smart TV or mini fridge, TikTokers are sharing decor hacks that will be a lifesaver for your wallet as you take your dorm from boring to bliss. With a little time and the help of a hot glue gun, these hacks will let you bring your cottagecore, light academia, or Y2K-inspired visions to life, albeit with some unusual tools like a hula hoop. However, the results are well-worth it. For example, one hack transforms your blank wall into the plant propagation station of your daydreams, while another gives you a colorful place to write down affirmations, and a "Be Back Later" note to your roommate.
The best part? Every TikTok dollar store decor hack costs a fraction of what it would if you purchased a similar item from a major retailer, and the DIY project can be a sweet way to bond with your new BFFs, too. (Crafting night, anyone?) Get started by picking one of these hacks that suits your aesthetic and grabbing all the #necessary supplies from your closest dollar store.