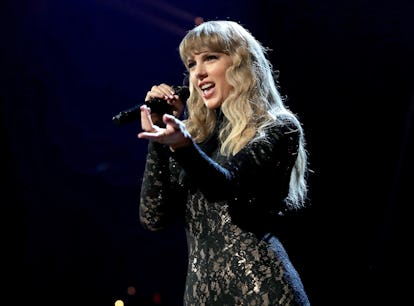 65 BFF Group Chat Names (Taylor's Version)
TFW you're forever leaving your texts on *red*.
Kevin Kane/Getty Images Entertainment/Getty Images
Being a Swiftie feels like a full-time job. Not only are you listening to Taylor Swift's albums on repeat, but you're also constantly looking out for Easter eggs in all of her music videos and TikToks to see what she has in store next. Between Folklore, Evermore, Fearless (Taylor's Version), and Red (Taylor's Version), you've been very busy discussing everything with your Taylor Swift-loving besties. If you haven't already christened your chat with an appropriate name, you may want to check out these Taylor Swift-themed group chat names now.
Just like Ms. Swift puts a lot of thought into each one of her lyrics, you want to give your group chat a name that matters and makes sense. If your Taylor Swift group chat is mostly used to send TikToks of different fan theories back and forth, you may want to use a song lyric that references your great detective work. You could also channel the Taylor squad days with a 1989 reference if you love your BFFs as much as Swift loves hers. There are also just some punny Taylor Swift group chat name for friends who love to laugh and have a good time sharing Swiftie memes and hosting dance parties every time a new album drops.
Whatever the vibe your chat has going at the moment, you're sure to find a Taylor Swift-themed group chat name from this list. Once you've decided on one you love "all too well," you can get back to discussing what's your fave song off Red (Taylor's Version), showing off your merch that just arrived in the mail, and debating whether it'll be 1989 (Taylor's Version) or Speak Now (Taylor's Version) that comes out next.
Taylor's Version
Taylor's Squad
We're Red-y
We're Endgame
The Lucky Ones
Right There Where We Texted Was Holy Ground
We Never Go Out Of Style — Taylor Swift, "Style"
Swift Texts
Not A Lot Going On At The Moment
Taylor Swift Cat Appreciation Thread
Here's A Toast To My Real Friends — Taylor Swift, "This Is Why We Can't Have Nice Things"
We're Feeling 22
We Are Perfectly Fine
Junior Jewels
Where's The Scarf, Jake?
The New Romantics — Taylor Swift, "New Romantics"
The Selena and Blake To My Taylor
Starbucks Lovers
The Story Of Us — Taylor Swift, "The Story Of Us"
We [heart emoji] TS
We're In A Getaway Car
It's Nice To Have Friends
All Tears, No Ricochet
We've Got Champagne Problems
Here's A Long Story Short
Please Don't Be Texting Someone Else
Texting You Was Red
I Bet You Text About Taylor
Kept You Like An Oath — Taylor Swift, "All Too Well (10 Minute Version) (Taylor's Version)"
It's A Love Text Story
Texting Forever & Always
Bye Bye Babies
The Best Day Texting You
My Lovers
'Tis The Damn Taylor Swift Season
All Body, No Crime
Cowboys Like Me
The Ones
My Fave Cardigans
We Are The Last Great American Dynasty
Betty, James, and Augustine
Mad Women
We Need To Calm Down
WE!
Gorgeous Group
Are We Out Of The Woulds?
No Bad Blood Here
All Mine
Dear John — Taylor Swift, "Dear John"
Enchanted To Text You
Long Live This Group
The Folklorians
Blank Space Babies
Texts On Red
Group Chat (Taylor's Version)
Finding Easter Eggs
13
No It's Becky
All Too Whale
I Knew We Were Trouble
We've Got To Speak Now
Texting Evermore
William Bowery Fans
Est. 1989
Text Reputation