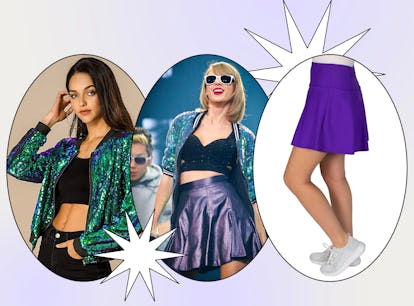 What I Wore To Taylor Swift's Eras Tour Is So Easy To Replicate
This last-minute look was actually the outfit of my (wildest) dreams!
Amazon/VCG/Visual China Group/Getty Images/Bolder Athletic Wear/Elite Daily
We may receive a portion of sales if you purchase a product through a link in this article.
Taylor Swift wasn't lying when she said she never goes out of style. Revisiting each one of her iconic eras for The Eras Tour proves that. The only issue with impeccable fashion taste is it makes deciding on a specific outfit to wear to the concert that much more difficult for Swifties. Aside from overcoming the first hurdle, which is actually getting a ticket to the show, picking out something to wear might be the toughest thing. What I wore to Taylor Swift's Eras Tour was thrown together last minute, and it's so easy to replicate if you're looking for ideas.
My TikTok FYP has become #SwiftTok recently with merch hauls from the Eras Tour truck to full videos of certain songs on Swift's three-hour long setlist. It makes me so happy to see fellow fans getting hyped to finally see Swift after so many years, and my favorite thing to see is everyone's outfit reveals. Not only are Swifties diehard fans who are great at puzzle solving and finding easter eggs, but they're also incredibly creative and talented. I'm so impressed at all the rhinestone jean jackets and DIY costumes that look like exact replicas of outfits Swift has worn before.
Since I originally was only going to attend the August shows in Los Angeles, I thought I had plenty of time to come up with a cute and creative Eras Tour outfit of my own. However, seeing all the concert footage made me spontaneously buy a last-minute ticket to one of her shows in Las Vegas. With only two days to plan the perfect 'fit and $0 to spend after purchasing an expensive resell ticket, I had to work with what I already had in my closet. Under those parameters, I managed to throw together a 1989-inspired Eras Tour outfit that I absolutely loved and would wear again.
How I Styled My 1989 Taylor Swift Eras Tour Outfit
Along with using only the clothes I had in my closet, I also challenged myself to find an outfit that was comfy but not too boring. I was going to the Eras Tour alone, which is already nerve-racking for anyone with social anxiety. I didn't want to add more stress on myself by wearing something that would draw too much attention or make me uncomfortable. At the same time, Swifties are going all out with their concert attire and I didn't want to phone it in.
I was going back and forth between my Taylor Swift cardigan for a folklore outfit or my sequin bomber jacket for something in the 1989 era. I bought the sequin bomber jacket right after seeing Swift wear something similar at the 1989 World Tour. Basically, I saw Taylor Swift wearing a sequin bomber jacket, so I bought a sequin bomber jacket. It was always my dream to wear something similar, but I never really got the opportunity.
While I love folklore and wear my cardigan as often as possible, 1989 will forever and always be my favorite era. I had to make my wildest dreams come true and put together an OOTD inspired by Swift's iconic tour 'fit. Along with the jacket, Swift also wore a sparkly metallic skirt and black crop top. This was the era where Swift sported a lot of crop tops with extremely high-waisted skirts and shorts. I'm not as confident as her, so the only crop tops I own are sweatshirts that I wear at home in front of just my cat and no one else. The closest I had to Swift's black top was actually a bikini top. Wearing a bikini top not by the pool was going to be a challenge in confidence, but I felt more comfortable having the perfect skirt to go along with it.
I have a few running skirts in my closet that I wear to RunDisney events. I have a metallic mermaid skirt for an Ariel DisneyBound outfit, and a purple one that I use for a Rapunzel or Hulk-inspired 'fit. I love these running skirts because they have built in shorts underneath that are comfy and come with three pockets. Who doesn't love pockets, am I right? While the mermaid skirt fits the metallic vibes of Swift's outfit more, I went with the purple one instead. Also, I could pull up my skirt to mimic Swift's high-waisted look, and it made me feel more comfortable baring my midriff.
To complete the look, I added some sunglasses and the classic red lip that Swift is known for. I also tried to part my hair and sweep my bangs to the side, but the Vegas winds were not cooperating that day. It didn't matter, though. I had a pretty great knockoff 1989 outfit that I couldn't wait to wear to the show.
I even got a few compliments from Swifties I saw walking around the stadium that boosted my confidence. The only downside was it was still a bit chilly outside, but since most of the Eras Tour will be taking place in the summer, this is a perfect outfit to wear once it warms up. If you're currently looking for inspo for something you can wear that's comfy, cute, and allows you to shake it off, this is it.