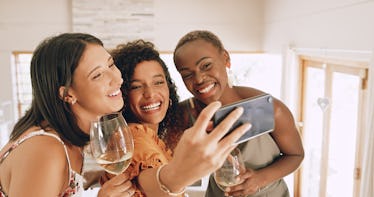 Super Bowl 2022 Captions To Use For Your Insta-Worthy Game Day Snaps
Don't just wing it on Sunday.
katleho Seisa/E+/Getty Images
Even if you're not that into sports, the Super Bowl is a fun time to get together with your friends. It's the perfect opportunity to hang out, eat delicious food, and watch the game, commercials, and halftime show. There's truly something for everyone to enjoy, which is why you need some Super Bowl 2022 captions to document the fun on the 'Gram.
If you're someone who's into making on-theme snacks for all your hangs, you'll definitely want to have some Super Bowl captions on hand for posting your football foodie snaps of wings, nachos, and pizza. You could also just be excited about spending time with your squad, which means a group selfie or two will be taken throughout the night. The cutest pics can be posted before the game even ends with these 35 Super Bowl Instagram captions. There's also some football puns and lyrics from the performers of the Super Bowl LVI halftime show on this list to cover all your bases.
By keeping this list of Super Bowl captions by your side, you'll be just as prepared as the Cincinnati Bengals and Los Angeles Rams are to take home the Vince Lombardi trophy. However, instead of an actual trophy, you'll receive the title of MVP amongst your crew and tons of likes from your followers.
"I wish all of this football would stop interrupting the commercials."
"Kicking it with my friends for Super Bowl 2022."
"Just winging it at our Super Bowl party."
"This is nacho average Super Bowl party."
"Isn't it tail-great to watch the Super Bowl."
"Drop it like it's hot." —Snoop Dogg, "Drop It Like It's Hot"
"Why must I be surrounded by frickin' idiots?" — Dr. Evil, Austin Powers: International Man of Mystery
"Be humble, sit down." — Kendrick Lamar, "HUMBLE."
"Is it time for the halftime show yet?"
"You don't like [the Bengals or the Rams]? That's OK, not everyone has good taste."
"I like big punts and I cannot lie."
"Just footballin' with my squad."
"Will the real Slim Shady please stand up? I repeat, will the real Slim Shady please stand up?" — Eminem, "The Real Slim Shady"
"This beer is my number one draft pick."
"Hanging with my bud... light for the Super Bowl."
"This is my super bowl. It's filled with guacamole."
"The calm before the score."
"Y'all know me, still the same OG, but I been low-key." — Dr. Dre featuring Eminem, "Forgot About Dre"
"I'm always wide open for a Super Bowl hang."
"Is it out of bounds to say we threw together the best Super Bowl party?"
"In queso you didn't know, I'm rooting for the [Bengals or Rams]."
"Tackling everything on my Super Bowl to-do list."
"I'm going to Disney World!"
"I'm in Super Bowl feast mode."
"I'm going to eat like a champion today."
"It's time to huddle up around the chip bowl."
"I'm in a serious relation-chip with this guacamole."
"The forecast today in LA is 100% chance of winning."
"Fantasy football is you thinking [the Bengals or the Rams] have a chance to win today."
"We are the champions, my friends." — Queen, "We Are The Champions"
"All I do is win." — DJ Khaled, "All I Do Is Win"
"I'm so high I can touch the sky. I know it's my time, and it's now or never." — Kendrick Lamar featuring Mary J. Blige, "Now or Never"
"I predict that either the Bengals or Rams are going to win the game."
"Clear eyes, full hearts, can't lose." — Friday Night Lights
"Just remember, football is 80% mental and 40% physical." — Little Giants