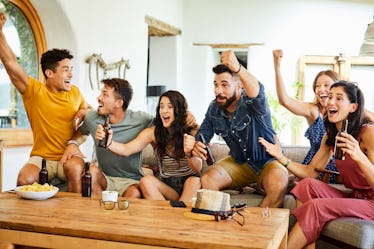 32 Super Bowl Puns For Instagram, Because This Is Nacho Average Football Game
"Came for the sports, stayed for the guac."
Morsa Images/E+/Getty Images
You may be a bit of an amateur when it comes to sports, but chances are you still watch the Super Bowl every year. Whether you're rooting for the Rams, the Bengals, or you're just showing up for the guac, there are so many fun traditions for Super Bowl Sunday to take part in. For me, it's about hanging out with friends, all the amazing food, and the always epic halftime shows. Whether or not you can add much to the gametime commentary, you want to be headed straight for the end zone when it comes to social media. When it comes time to post selfies with your friends in your game day attire or snaps of your winning food and drink spread, you'll want some Super Bowl puns to use as captions. You'll certainly need them, because this is nacho average football game.
First things first: let's talk about the details of this sporting event. The Super Bowl is happening this weekend on Sunday, Feb. 13. The Cincinnati Bengals and Los Angeles Rams are facing off at SoFi Stadium. According to an announcement from the National Football League, the halftime show performers will be Dr Dre, Snoop Dogg, Eminem, Mary J Blige, and Kendrick Lamar.
You're more than ready to cheer everyone on and tune in with your besties. You've spent the past few weeks planning the perfect party for you and your friends, and making sure the snack table will have no shortage of guacamole or potato skins. You've made sure you can stream the game on your television or laptop, and passed all the information onto your besties. The only thing left to do is come up with a bunch of Super Bowl jokes and football puns that you can pull out during the big game.
You should use some Super Bowl jokes to show off your plate of potato skins, or the jerseys that are hanging on your wall. If you're like me and not totally tuned into sports, then you can even post a picture of your television screen or a throwback to when you participated in something athletic back in the day, maybe even with a hilarious football pun like, "The huddle is real."
Those kind of posts show that you appreciate the game — the competition, the hustle, and the grit it takes to win the Super Bowl trophy. I can't even imagine being on that field, let alone gearing up for a punt or heading for the end zone. Respect. *Takes a bite out of a nacho, and raises the chip up.*
Even if they won't admit it, your friends are sure to crack up at some of these Super Bowl dad jokes — as long as you aren't interrupting a major play. So have a (foot)ball with your besties with these adora-bowl Super Bowl puns. You can even post a few of these Super Bowl jokes on Instagram with a Game Day photo, then watch the hearts roll in.
"If I had to pick a favorite superhero, it would be the Super Bowl."
"You think your team is going to win? That's adora-bowl!"
"I like big punts and I cannot lie."
"This root beer is my number one draft pick."
"Let's talk about our game plan."
"You could call us a bunch of goal-getters."
"My football team really needs to ketchup."
"That penalty was nacho problem."
"All punts intended."
"Having a ball with my best friends for the Super Bowl."
"Kicking off this Super Bowl party with some nachos."
"I really like your tight end."
"My football team and I have a serious relation-chip."
"How are you fielding about the Super Bowl?"
"This Super Bowl, I'm focusing on my snack coverage."
"Being a sports fan? Well, I'm wingin' it."
"Getting a kick out of the football game going on during Snoop Dogg's concert."
"Rushing to pass you the chips and guacamole."
"Dear, quarterback. Please make some good snap decisions."
"Just in the kick of time."
"Assume that during the Super Bowl, my plate is out of bounds."
"Don't start slacking. Let's get tackling!"
"Staying humble thanks to that fumble."
"Football games seriously guac my world."
"I'm here for the halftime show, just in queso didn't know."
"Super Bowl Sunday always steals a pizza my heart."
"I never met a stadium I didn't like."
"The huddle is real."
"Fantasy football is you thinking your team is going to win."
"The only foul I know is double-dipping."
"This beer is my number one draft pick."
"Came for the sports, stayed for the guac."
Did you find a pun that totally guacs your world? You should be good to go. Truth is, even if you're celebrating this event alone, a good Super Bowl pun can really go long on Instagram.