Bubble, Bubble, I'm In Trouble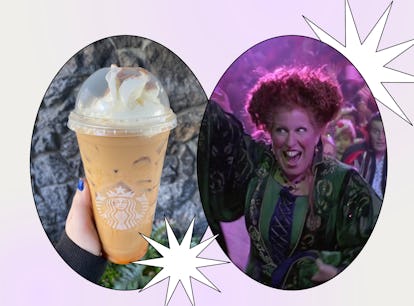 I Tried The TikTok-Viral Hocus Pocus Latte From Starbucks
Another glorious morning, but first... coffee.
Picture this: It's Halloween night, a fall-scented candle is burning, and you're curled up on the couch watching Hocus Pocus. The only thing that could make your spooktacular evening even better is if you had a pumpkin spice to sip on, like Starbucks' Hocus Pocus latte. The secret menu drink that's magically appearing on TikTok's FYP takes the PSL and upgrades it with additional autumn flavors. Wanting to get into the spirit of the season, I tried the Hocus Pocus latte to replicate the witches' brew.
I'm all here for the popularity of PSLs, but my go-to fall drink from Starbucks is a Dirty Chai Latte. I love something that's sweet, spicy, and full of espresso shots to keep me awake, so I don't normally order a Pumpkin Spice Latte. They're just a tad too sweet for me, but I was intrigued by the Hocus Pocus latte and its fall-flavored customizations.
If you're hoping to order this viral drink inspired by the Sanderson sisters, ask for a Venti Pumpkin Spice Latte with two pumps of Apple Brown Sugar syrup and two pumps of White Chocolate Mocha Sauce. The drink is then topped with Cinnamon Dolce Sprinkles and Extra Caramel Drizzle. If you're already thinking to yourself that's a lot, you'd be right. The $9 latte has a lot going on, and is so much of a treat that it verges on being a trick instead.
Starbucks' Secret Menu Hocus Pocus Latte Review
Since it's my favorite Halloween movie, I really wanted to love the Hocus Pocus latte at Starbucks. Instead of pumpkin spice goodness, though, this drink was a bit of a letdown for me. With all the added syrups and caramel drizzle, this drink is extremely sweet, and that's coming from someone who still eats an entire bag of Halloween candy on Oct. 31.
Starbucks' Pumpkin Spice Latte is already so sugary that if you're going to add anything in, you should be taking something out as well. The Apple Brown Sugar, White Chocolate Mocha Sauce, Cinnamon Dolce, and Caramel Drizzle together create a nice fall blend, but there isn't enough spice and espresso to cut through the sugar. Even though I thought the Gilmore Girls Starbucks drink had a lot of autumn flavors as well, it at least had the tart apple to make it more interesting. The Hocus Pocus Latte needs something to even it out as well.
To make it more subtle, I would reduce the six pumps of Pumpkin Sauce that already come in a venti PSL to two or three. If you really want the pumpkin to be the main character, keep it as is, but add more shots of espresso. Right now, the PSL comes with just three shots, and even just one more would undercut some of the sweetness.
Adding additional shots of espresso will make the drink more expensive, though. Attempting to make it budget-friendly, I would skip on the caramel and even the White Mocha Chocolate Sauce. You can achieve the same fall taste with a Venti Pumpkin Spice Latte that has two pumps of Apple Brown Sugar syrup, four pumps of Pumpkin Sauce, and the Cinnamon Dolce Sprinkles on top.
Since the caramel does add a bit of Insta-worthiness, you can keep it for the 'Gram. I would just ask for a regular Caramel Drizzle or even a light amount. Anything more is unnecessary, especially when it all falls to the bottom of your cup after a few sips anyway. As it is right now, the Hocus Pocus latte is a lot to drink at once, but the sugar will definitely keep you running amok amok amok all night long.