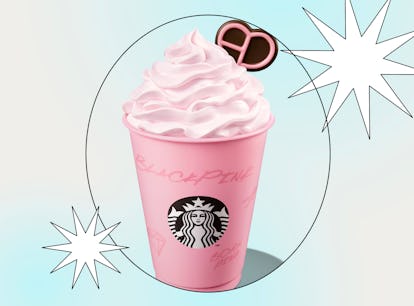 Starbucks' BLACKPINK Strawberry Frappuccino Is A Barbenheimer Sip
There's also merch inspired by the group's latest album, Born Pink.
Starbucks/Elite Daily
BLINKS, Starbucks has something exciting happening abroad. Starting July 25, select Starbucks locations in Asia are rolling out a brand new BLACKPINK collection of drinkware and accessories along with a limited-edition Frappuccino that will have you "ice cream, chillin'" in the summer heat. The Starbucks' BLACKPINK drink is a Strawberry Choco Cream Frappuccino, which isn't too different from the secret menu sip on TikTok.
The Strawberry Choco Cream Frappuccino, which was created in collaboration with BLACKPINK, is similar to the TikTok's viral BLACKPINK Starbucks drink. However, this Frappuccino is something you can order straight off the menu — but only in Asia. The Starbucks BLACKPINK Frappuccino, which is inspired by the K-pop group's latest album Born Pink, is a blend of strawberry syrup, dark chocolate sauce, oat milk, and chocolate curls for the base. It's then topped with light pink whipped cream and a heart-shaped chocolate. The Frappuccino will be available, while supplies last, in Hong Kong, Indonesia, Korea, Malaysia, the Philippines, Singapore, Taiwan, Thailand, and Vietnam.
If you're not planning a trip overseas anytime soon, though, there is a way for you to order a similar Starbucks drink that's like a knockoff version of the BLACKPINK Frappuccino.
How To Order A Dupe Of Starbucks' BLACKPINK Strawberry Choco Cream Frappuccino
Starbucks' BLACKPINK drink that's only available in Asia starts off very similar to the Strawberry Crème Frappuccino that's available here in the U.S. The only customizations you could make to have it be closer to the Strawberry Choco Cream Frappuccino is to substitute your milk with oat milk and add in pumps of mocha sauce for the dark chocolate sauce. To get the look of the BLACKPINK drink, ask your barista to add mocha sauce to the bottle of your cup for the color block effect. Then, instead of the light pink whipped cream, ask for strawberry puree to be blended into a Vanilla Sweet Cream Cold Foam and substitute that for the whipped cream. There isn't a heart-shaped chocolate available to add on top, but you can ask for some cookie crumble topping for a black garnish.
It's not exactly the same, but the chocolate and strawberry flavors will be there just like in the BLACKPINK Strawberry Choco Cream Frappuccino. It'll remind you of a Neapolitan ice cream and BLACKPINK's "Ice Cream" featuring Selena Gomez. Plus, your drink will have the same Insta-worthiness with the layers of black and pink ingredients. It's actually the perfect sip to order if you're doing a Barbenheimer double feature.
A Look At Starbucks' BLACKPINK Merch Collection
In addition to the drink you can only order in Asia, BLINKS will also be able to get their hands on 11 new drinkware items and six BLACKPINK accessories. Each item in the collection features the signature black and pink color palette with some graffiti motifs. For Starbucks drink collectors, you'll want to get your hands on one of the reusable cups, mugs, or tumblers. There will also be tote bags, passport holders, key chains, and even yoga mats for you to do Jennie from BLACKPINK's workout routine.
Before the launch, BLACKPINK got to check out their merch collection and pick their favorite items. Anyone with a Jisoo bias will want to snag the large tumbler, so they can stay hydrated all day. Jennie correctly guessed that Jisoo chose the tumbler, because she "can put a lot of water" in it. Both Rosé and Lisa liked the light pink reusable cup, but Rosé picked it as her favorite because she liked the simplistic design. Jennie chose the large mug for drinking tea at home. It's both black on the outside and pink on the inside. That left Lisa with the sparkly tumbler, which looks like BLACKPINK's microphones. Of course, you can't go wrong with any of the cups in the Starbucks BLACKPINK collection.