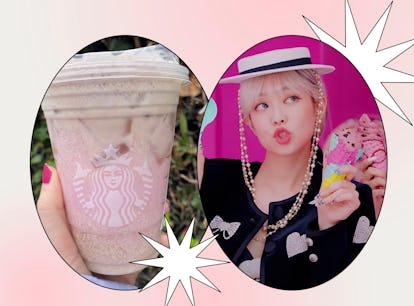 I Tried The BLACKPINK Starbucks Drink & It Tastes Like Ice Cream
"Look so good, yeah, look so sweet."
It's been a busy year for BLACKPINK. After the release of their second album Born Pink, the K-pop group headlined Coachella and kicked off their world tour, which now includes additional dates in the U.S. this fall. To keep up with Jisoo, Jennie, Rosé, and Lisa, BLINKS may want to order Starbucks' secret menu BLACKPINK drink. While it may be more BROWNPINK than BLACKPINK, this strawberry and chocolate Starbucks order is definitely "lookin' good enough to eat."
The BLACKPINK secret menu drink went viral on TikTok thanks to Starbucks barista @itsjoboi. The order, which starts with a Pink Drink base, is the Strawberry Açaí Starbucks Refresher with coconut milk and a chocolate cold foam on top. It's pretty simple and easy to order. All you need to do is get a Pink Drink and remove the strawberry inclusion. Then, customize your beverage with a Chocolate Cream Cold Foam on top. TikToker @itsjoboi says to order the Vanilla Sweet Cream Cold Foam with two pumps of mocha blended in, but I found the Chocolate Cream Cold Foam to be better.
When I ordered the mocha pumps to be added to the Vanilla Sweet Cream Cold Foam, the brown topping was slightly darker, but it wasn't as creamy so it blended in right away with the pink. You want that brown and pink colorblock for the most Insta-worthy drink pic. The flavor was also very similar, and the Chocolate Cream Cold Foam was available to order on the mobile app. If you want to customize the Vanilla Sweet Cream Cold Foam with mocha, you'll have to order from a barista.
The end result of ordering this drink was a refreshing Pink Drink with a brown topping to look like BLACKPINK.
The BLACKPINK Starbucks Drink Review
While I was hoping for a chocolate-covered strawberry flavor with this combo, it actually tasted more like Neapolitan ice cream. It might have been the lack of additional strawberries with the coconut milk that made this extra creamy and more ice cream-like than tart, but I'm not complaining. This $6 drink was super refreshing and went along well with BLACKPINK's "Ice Cream" with Selena Gomez, which is a great song for the summer.
In fact, this summer sip will perfectly pair with a day of lounging out by the pool or having a picnic in the park with your besties. You could even sip on a BLACKPINK drink as you watch Jennie in her not-so-sweet role on The Idol. The only thing keeping it from being a perfect BLACKPINK beverage is the color. A black coffee with a pink cold foam on top might actually be closer, so I'm tempted to add a Vanilla Sweet Cream Cold Foam with strawberry purée mixed in on top of just an iced coffee to see if it's more BLACKPINK in shade. However, this drink is so tasty that I understand why @itsjoboi went with this combo instead.
Just make sure you snap a pic ASAP. The longer the chocolate cold foam sits, the more it blends in with the Pink Drink and doesn't look as cute. You want to get your drink while it still looks so good.