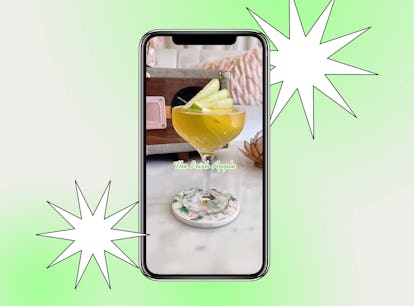 13 St. Patrick's Day Drink Recipes From TikTok That Are Pure Gold
Get ready for a shamrockin' good time.
St. Patrick's Day is coming up, and with it comes an explosion of all things Irish and green, including your drinks. Honestly, it doesn't really matter if you're Irish or not; it's still fun to celebrate this holiday full of friends and fun times. For your St. Patrick's Day prep, you'll definitely want to check out these popular St. Patrick's Day drinks from TikTok to get the party rolling.
Let's be real: Indulging in some green-hued cocktails or Irish beer is part of the fun of the holiday, so you might as well give a new drink recipe a go. If you're planning to start your day off strong, take it light and easy with some breakfast-friendly St. Patrick's Day recipes, like a mimosa with a green twist or a classic Irish coffee. Then, when you're ready to really get going, take one of these other festive St. Patrick's Day cocktails for a spin. Just don't forget to snap a pic of your Insta-worthy concoction before you dig in.
Whether you like your drinks sweet and glittery or tangy with a kick, there's something for everyone here. So, grab your friends and your green attire, and plan to whip up some of these St. Patrick's Day drink recipes from TikTok that all your favorite leprechauns are sure to love.
This article was originally published on