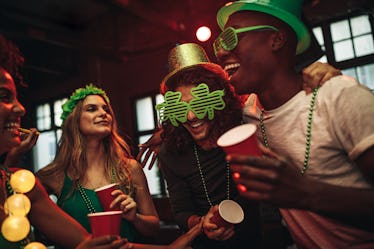 45 St. Patrick's Day Captions For Pitcher-Perfect Instagrams Of Your Shenanigans
You'll be lucky to have these puns on hand.
Shutterstock
St. Patrick's Day is all about having fun. From planning your green OOTD to making festive drinks for you and your besties, March 17 is sure to be full of shenanigans and Insta-worthy moments. In order to prevent the paddy from pausing as you post your fave pics, you'll want to have some St. Patrick's Day 2022 captions for Instagram on hand and ready to go.
Coming up with your own St. Patrick's Day Instagram caption can be difficult in the moment. You want to find something that perfectly captures the vibe of your snaps and feed. Someone who mostly posts pics of their food will want very different captions from someone with an Insta that's filled with selfies of their 'fits. Luckily, these 45 St. Patrick's Day quotes and captions cover every plan you may have.
For instance, if your crew is planning to meet up for green cocktails and mocktails made from TikTok recipes, you'll want a sweet St. Patrick's Day caption for your group sippin' selfies. This list also include St. Patrick's Day puns for the LOL-worthy candid snaps of you gettin' jiggy with it with your BFF or partner. Whatever the plan is, you'll be ready to shamrock 'n' roll with plenty of St. Patrick's Day Instagram captions.
"Feeling like the cutest clover in the patch."
"Feeling extra lucky on this St. Patrick's Day."
"I'm looking cute, don't you a-green?"
"Irish this St. Patrick's Day would never end."
"Leprechaun you not right now?"
"I found my lucky charms."
"I'm just looking for some Irish kisses and shamrock wishes."
"You're so golden." — Harry Styles, "Golden"
"I'm not Irish, but you can kiss me anyway."
"I'm as green as the Hulk."
"Irish you were spending St. Patrick's Day with me."
"I may not be lucky, but I am charming."
"It's true. If you take a pitcher, it'll last longer."
"Don't worry, green beer happy."
"The paddy don't start 'til I walk in."
"These snacks were magically delicious."
"Just so you know, I pinch back."
"About to get Schitt-faced. Yay, David!"
"It's not easy being green." — Kermit the Frog, "It's Not Easy Being Green"
"Having a pitcher-perfect St. Patrick's Day."
"Irish you a Happy St. Patrick's Day."
"But first, Irish coffee."
"Oh my Guinness! It's St. Patrick's Day again."
"Back that lass up."
"Shenanigans are definitely on the schedule."
"Shake your shamrocks."
"It's officially Shamrock Shake season. #Blessed"
"St. Patrick's Day is clover when I say it's clover."
"And they'll tell you now, you're the lucky one." — Taylor Swift, "The Lucky One (Taylor's Version)"
"Lucky to have been where I have been." — Jason Mraz, "Lucky"
"I'm waiting for it, that green light, I want it." — Lorde, "Green Light"
"Took off faster than a green light go." — Taylor Swift, "Holy Ground (Taylor's Version)"
"I say luck is when an opportunity comes along and you're prepared for it." — Denzel Washington
"We like to paddy."
"Having a wee bit of fun."
"Hit Instagram gold with this pic."
"You're my pretty little Galway Girl." — Ed Sheeran, "Galway Girl"
"On St. Patrick's Day, we wear green."
"What a brew-tiful day to celebrate St. Patrick's Day."
"Can't pinch this."
"Don't mind me, I'm just looking for gold."
"Yoda lucky one."
"Let the shenanigans begin!"
"Everybody in the pub getting tipsy."
"Let's get lucked up."