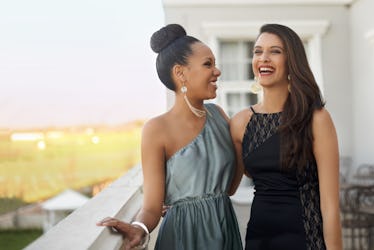 40 Sorority Pref Night Captions That'll Make A Final Impression
Don't just fit in — stand out!
PeopleImages/E+/Getty Images
While you won't officially find out which sorority you'll be joining until Bid Day, Pref Night, or Preference Night, is the most important event of sorority rush week. It's when you get to make a final impression on all the houses you're deciding on, and when you get to know your potential sisters on a deeper level. Let's not forget, it's also the most formal of all the sorority recruitment days. While wearing your most stunning dress, you'll want to snap tons of OOTD pics — and you'll need some sorority Preference Night captions in the back of your pocket so you're ready to hit "post" once all the festivities are over.
Similar to #BamaRush TikTok, chances are you've been keeping your friends and followers updated on what you're wearing all week long. For every mirror selfie and TikTok video you share, you need a new sorority caption to pair with it. It can be exhausting coming up with all of those on your own. In addition to that, you'll also need a cute sorority quote or two to go along with any group pics you take with your fellow rushees or selfies with your future sorority sisters.
Since you'd rather focus on remembering the names of everyone you meet and taking note of which houses you prefer, having this list of 40 captions for sorority Preference Night will make posting on TikTok or Instagram as simple as you saying yes to Greek life.
"Good nights with even better people."
"This night is sparkling, don't you let it go." — Taylor Swift, "Enchanted"
"You never get a second chance to make a first impression." — Will Rogers
"Give a girl the right pair of shoes, and she can conquer the world." — Marilyn Monroe
"First, you're a part of it. Then, it becomes a part of you."
"The only thing you should rush into is sisterhood."
"Three things that I am: Classy, fabulous, and rushing a sorority."
"Felt cute, might join a sorority later."
"I couldn't have done this week without you."
"The harder you try, the better the impression you set on the people around you." — Tom Holland
"Gonna stand out 'til you notice me." — A Goofy Movie, "Stand Out"
"Go Greek. Find your people."
"Girls just want to have sisters."
"Here's to the nights we felt alive." — Eve 6, "Here's to the Night"
"Life is made of small moments like this."
"Though time will pass, our sisterhood will last."
"They say your vibe attracts your tribe, so what tribe am I attracting in this?"
"Tomorrow, I'm about to have a bunch of new sisters."
"Saving the best outfit for last."
"This is the definition of dressed to impress."
"What a rush this week has really been."
"It's a forever kind of thing."
"Hard at werk."
"Pref Night, but make it fashion."
"Pick me. Choose me. Love me." — Grey's Anatomy
"If this outfit doesn't scream 'I deserve to be your sister,' I don't know what does."
"Outfit so nice, I'm probably going to post it twice."
"You glow girl."
"It's been one blur of fun."
"All right, final house predictions. Let's go!"
"I think I've truly found my people."
"Good things come to those who wait, but better things come to those who rush."
"Life is too short to blend in."
"You may not be my sisters just yet, but I can already tell we'll be friends forever."
"This is only the beginning."
"Decisions, decisions."
"Pref Night is my forever aesthetic."
"This is the best way to start the semester."
"Step into the room like it's a catwalk." — Lady Gaga, "Fashion"
"Breaking news: I still remember how to get dressed."