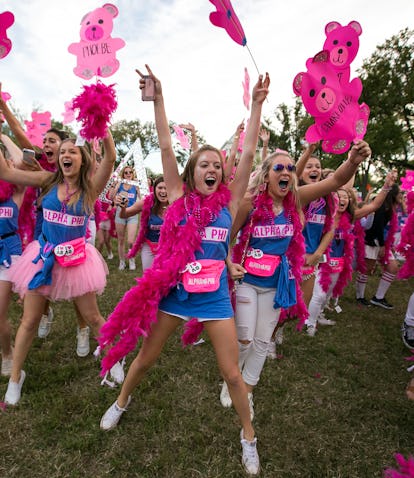 These OOTDs From Bama Rush TikTok Are Still Living In My Head Rent-Free
Not me googling "Pants Store near me."
Congressional Quarterly/CQ-Roll Call, Inc./Getty Images
It's that time of year again. After exploding all over TikTok in 2021, Bama Rush TikTok is finally back. That means The Pants Store, Kendra Scott, and LuLus are all trending once more. I'm about to plan a dinner with someone's MeeMaw just so I can shop at all of these adorable boutiques. Despite never rushing or, honestly, knowing any sorority's names before Bama Rush took over my FYP, I couldn't be more invested in the inner workings of the University of Alabama's sorority rush process — and I'm not the only one. Luckily, rush season is back and that means all your Bama favorite fashion is too.
On Saturday, Aug. 6, beautiful chaos hit Bama's campus as thousands of people began the university's week-long sorority recruitment session prior to the start of school. The young hopefuls, known in the sorority world as Potential New Members (PNMs) are taking over TikTok's For You Page once more as they document their Bama Rush journeys, starting with their outfits. The most recognizable Bama Rush TikTok videos are "Rush OOTDs" in which PNMs stand in front of the camera, list off the various aspects of their rush outfits, where they bought them, and, often, move out of the way for their roommates to step up and do the same.
After the truly intense popularity Bama Rush TikTok garnered last year, it's no shock many PNMs are starting the trend up again. If you followed last year, get ready to see a lot of the same pieces again: jewelry from Kendra Scott, shorts from Lulus, earrings from SHEIN, a ring from someone's deceased grandmother, dress from The Pants Store, and a good haul from Walmart or two thrown into the mix.
Buckle in for season two of your favorite TikTok reality TV show. Once you see them go through all open houses, sisterhood rounds, philanthropy rounds, and pref nights, you'll be just as invested as the PNMs themselves. Ahead, the best Bama Rush TikTok OOTDs that'll pull you down this Panhellenic rabbit hole if you're not there already.
This article was originally published on