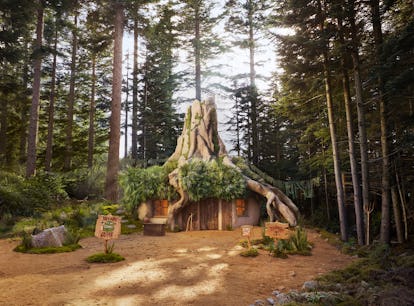 This Shrek Airbnb Is A Free Halloween Stay Inspired By The Movies
Donkey's hosting, so of course there will be waffles in the morning.
Alix McIntosh
If you're craving a little peace and quiet this Halloween, you may want to take a page out of Shrek's (story)book. When he's not saving Fiona or listening to Donkey go on and on, the lovable green ogre enjoys just spending his days hanging out in his private swamp in the forest. The secluded tree stump cottage has everything he needs, and now, it can be yours for a weekend away, because Shrek's Swamp is available to book IRL on Airbnb.
That's right, Shrek's Swamp home is now available to rent on the platform, but just for one, two-night stay from Oct. 27 to Oct. 29. The lucky guest who is able to book this Shrek-themed home will get to live like their favorite ogre with two of their besties, and the best part is that it's totally free. Shrek's Swamp rental is similar to other TV and film exclusive stays that have been popping up on Airbnb in recent years. There was, of course, Carrie Bradshaw's apartment from SATC and the Mystery Machine van from Scooby-Doo. Now, fans of the Shrek series can visit the animated Kingdom of Duloc, but IRL — and it'll make you feel like you've been transported into the movies.
For your very own swamp-scape with muddy cottagecore vibes, here's everything you need to know in order to book the Shrek Swamp on Airbnb this October.
How To Book Shrek's Swamp On Airbnb
The Kingdom of Duloc isn't actually a real place. Instead, the Shrek Swamp Airbnb is located in the Scottish Highlands, and reservations are on a first come, first served basis for the studio tree stump beginning on Oct. 13 at 6 p.m. BST or 1 p.m. ET. In order to book the Shrek Airbnb, you'll need to be the first person to click "reserve" as soon as the booking window opens, so be sure to log into your account ahead of time and be ready to refresh ASAP. While the Airbnb is free to reserve, you will be responsible for your own travel to and from Scotland — and since the booking happens two weeks before the reservation begins, that means you won't have much time to find cheap flights.
Another thing that may factor into whether or not you want to book the Shrek Swamp is that the toilet, sink, and shower for Shrek's Swamp are located about 20 meters away from the Airbnb. In the films, Shrek's bathroom was an outhouse anyway, so it's pretty on theme to what he would have wanted.
What's Included In Your Shrek's Swamp Airbnb Stay?
Despite the airfare and outhouse accommodations, this may still be your dream vacay if you're a diehard Shrek fan. If that's the case, you'll love the swampy extras that come with your booking. The first thing you'll want to do when you arrive is take a ton of pictures of Shrek's home, which looks exactly as it does in the animated films. There's even a "Beware Ogre" sign out front and an earwax candle inside to light the table.
Since Donkey is the host of your Airbnb, you'll be treated to some of his infamous waffles in the morning as well as a parfait, which you can enjoy in front of the fireplace. For the rest of your time in Shrek's swamp, go for a hike, plan a fairytale-inspired picnic, or spend the evening stargazing with your friends as you unpack all your onion-y layers.
The Shrek Swamp can comfortably sleep up to three guests with two beds. Meals will also be provided and arranged with an on-site concierge who will be there to show you around when you check-in. After getting a tour of the place, you and your fellow brogres will be left alone to have Shrek's Swamp all to yourself.