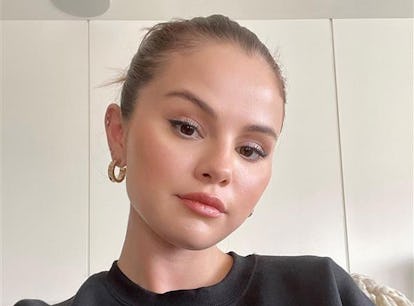 Selena Gomez's Workout Routine From TikTok Is A Full Body Burn
Is there anything the multi-hyphenate can't do?
Between launching her Rare Beauty Positive Light Silky Touch Highlighters that are drawing major TikTok hype and ringing in the new year with Brooklyn Beckham and Nicola Peltz, Selena Gomez seems to be doing it all right now. Not to mention, Gomez revealed she wants to release new music soon and is heading to her very first Golden Globes as a nominee on Jan. 10. While her schedule seems to be booked AF, Gomez still manages to squeeze in some gym time with her personal trainer. If you want some fitness inspo for the new year, Selena Gomez's workout routine she shared on TikTok is something you may want to incorporate into your own weekly schedule.
Amy Rosoff Davis, who is a celebrity trainer who has worked with Gomez in the past, told Byrdie that working out "should be a balance." Davis — who joined Gomez on her 2016 Revival tour — said, "[My first priority when training Selena is] listening to her body — which everyone should do when it comes to working out." While some days you go all out with a high-intensity routine, other days you may just want to do a quick yoga routine or stretch.
Switching it up is definitely something Gomez is an expert at. She's not just an actress, but also a singer and creator of one of the most beloved beauty brands. It makes sense that she also switches up her workout routine from day to day. "If you keep your same old routine, you will most likely get bored and wind up skipping the gym," Davis added, saying this is why Gomez does "everything from Pilates to hiking to dance cardio to circuit training to yoga and Spinning." You may choose to mix things up as well. Instead of your usual run in the neighborhood or workout at the gym, you can try this easy at-home workout that Gomez shared on TikTok.