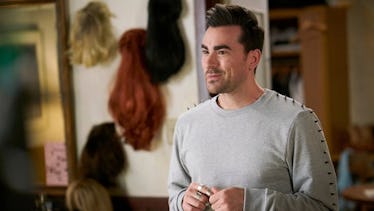 12 David Rose-Inspired Gifts To Send Your "Best Wishes, Warmest Regards" This Season
It won't be hard to connect with these gift ideas right now.
Netflix
From his sweaters to his one-liners, it's no wonder David Rose from Schitt's Creek is one of TV's most beloved characters. Anytime you rewatch the series on Netflix, you find yourself wishing you could be actual BFFs with David. With the holiday season here, you could even take inspiration from your fictional bestie when shopping for your IRL ones by getting some Schitt's Creek David-inspired gifts for every fan on your list.
There are so many memorable David moments in the series, from when he hilariously bickers with his sister, Alexis, to when he's being absolutely adorable with Patrick. Let's not forget all the times he hangs out with Stevie or gets frustrated with his parents. It's what makes Schitt's Creek so rewatchable. As you're revisiting some of your favorite scenes, you may notice that there are plenty of David Rose-inspired gift ideas scattered throughout. For instance, your foodie friend may want new spoons for making family recipe enchiladas at home and folding in the cheese. You could even treat your bestie to some pampering products from David's Rose Apothecary store with a craft care package for unwinding. David's fashionable sweaters could even influence you to find some Schitt's Creek-inspired gifts for your most stylish BFF to wear.
Whatever your loved one is interested in, you're sure to find a David Rose-inspired Schitt's Creek gift from this list that is "simply the best." A thoughtful present this time of year is the best way to send your "best wishes" and "warmest regards."
We only include products that have been independently selected by Elite Daily's editorial team. However, we may receive a portion of sales if you purchase a product through a link in this article.
This article was originally published on