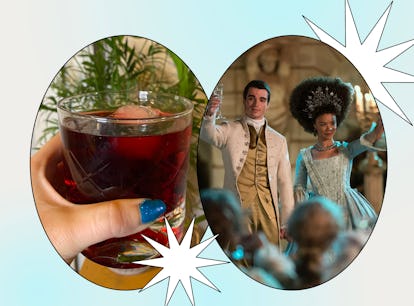 I Tried A Queen Charlotte Cocktail & It's A Dirty Shirley Twist
"My heart calls your name." — King George to Queen Charlotte, and me to this drink
Rachel Chapman/Netflix/Elite Daily
With warm weather finally here, chances are you're ordering a summery sip like the Dirty Shirley at happy hour. The boozy twist on the Shirley Temple adds vodka to lemon lime soda and grenadine, and Dirty Shirleys have become more trendy in the past few years. However, it may be time for Shirley to take a backseat to someone more royal — Queen Charlotte. Yes, that same Queen Charlotte who inspired the Bridgerton character. After watching the new Netflix series, I tried the Queen Charlotte cocktail to see if it's as good as a Dirty Shirley.
The Queen Charlotte is basically a Shirley Temple, but with red wine added to it. So, this one is for you, wine Wednesday lovers. It's so simple to make that you can pretty much find everything you need at the grocery store. Just pick up the following ingredients:
2 oz. red wine
1 oz. grenadine
Lemon lime soda
Ice
Once you have your ingredients, mix together the red wine and grenadine in a glass and top off with the soda. Most recipes don't tell you how much soda to add. I used an eight-ounce glass, so it was around five ounces of soda with the ice added in to keep it cold. You can obviously add more soda if you'd like more of a spritzer drink for sipping by the pool, or less soda if you'd like to enjoy more of the red wine and grenadine flavor.
Queen Charlotte Cocktail Review
I have to admit right away that I'm not much a red wine drinker. I typically go for white or rosé, which is why it says a lot that I thoroughly enjoyed the Queen Charlotte drink. The mix of the fruity soda and grenadine with the red wine made this cocktail taste like a summer sangria. I can imagine making a pitcher of this for my besties during a Friday night happy hour or to enjoy poolside on a hot day.
Some recipes say to use a dry red wine, probably because you're adding in sweetness with the grenadine and soda, but I went with a spicy red Syrah that I had at home. It didn't make it too flavorful or richly sweet; instead, I found it gave my drink more of a kick. If you want to play around with the recipe, there are variations on the Queen Charlotte recipe from over the years you can tap for inspo. For example, in the 1950s, they didn't add the lemon lime soda. However, I think this drink needs the carbonation — especially for a summer sip. When it's warm out, you want something like a chilled wine spritzer to enjoy.
Overall, I'm truly loving this Queen Charlotte cocktail as much as King George loves the actual Queen Charlotte in Bridgerton. I may even prefer it to the Dirty Shirley, especially for the summer.