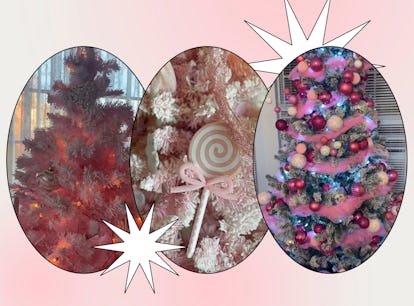 Barbiecore Christmas Trees Are Taking Over The FYP This Year
It's beginning to look a lot like Pinkmas.
We may receive a portion of sales if you purchase a product through a link in this article.
If the box office numbers weren't clear enough, 2023 was the year of Barbie. Of course, Barbiecore has been going strong for a few years now, but shades of pale and neon pink have been taking over everything from fashion to home decor. In fact, pink Christmas trees are the "it girl" trend this holiday season.
Celebs like Khloe Kardashian, Kylie Jenner, and content creator Bella Woodard (@b_woodard) have rocked the pink Christmas tree for years, but Woodard tells Elite Daily that the trend seems extra fitting this year with the success of the Barbie movie. Picking out a pink tree from Target or some fuchsia ornaments from Michaels is a first step, but to really embrace pinkmas, you need some decorating tips.
While scrolling on TikTok can help you find inspo, Elite Daily spoke to four creators who share their hacks for the perfect pink decor — like which ornaments to add first and where to find the best pinkmas essentials. Chazlyn Yvonne (@chazlyn.yvonne), who already put up her pink tree on Nov. 1, shares that she will be continuing to add to her whimsical and hyper-feminine Barbiecore home throughout the season. So, it's never too late to join the pink Christmas tree trend.
Below, you'll find all the tips you need from TikTokers embracing pinkmas, so you can also have a holly, jolly, and totally Barbiecore season.
Collect Inspo First Before Shopping
Creator Phoebe Reynolds (@lifewpheebz) says creating a vision board of what you want is essential. This helps you have a clear vision and stay focused while shopping. Reynolds uses Pinterest and the explore page of Instagram to find pink Christmas tree inspo, but she also draws from creators like @princess.sugarplumfairy, @flowerful_vintage, @jolani_beauty, and @tokyolagirl. The latter shared a pinkmas haul with cute finds from HomeGoods and Marshalls.
Add Pink Bows To Your Christmas Tree
Ornaments are a great way to make a traditional tree more pink, but Reynolds says this year, ribbons are also an option. "I saw a trend of people adding pink ribbons to their trees instead of ornaments, and it's super cute." Ribbons have become a staple of the coquette aesthetic that Gracie Abrams, Olivia Rodrigo, and Sabrina Carpenter in her "Feather" music video have all channeled with their style.
If you're leaning more towards a vintage pinkmas vibe over vibrant Barbiecore, add some pale pink bows to your branches with ribbon from Michaels ($5). If you're not great at tying a perfect bow, there are pre-made ones ($6, Etsy) you can attach to your tree as well. Yvonne has even been using hair clips ($5, Forever 21) as ornaments that she just attaches to the branches.
Use Tulle Ribbon To Make Your Christmas Tree Stand Out
For a classic pink Christmas tree, you may want to wrap some ribbon around like garland. For this aesthetic, Woodard suggests using tulle ribbon. She says the tulle will make your tree standout more than just regular ribbon. The tulle can also be used to make even bigger bows for your branches. Woodard is all about the bows, and even has a giant pink one in the place of her star on top.
Start With A Pre-Lit Pink Christmas Tree
One way to make decorating a pink tree even easier is to start with a pre-lit one. This is Yvonne's go-to hack for putting together a gorgeous pinkmas display. It saves you time decorating and cleaning up when the season is over, since you're not having to separately put on the lights year after year. You can also use any extra money you save, and put it toward more pink decor.
Begin With The Bigger Ornaments First
Yvonne's second hack for putting together an Insta-worthy pink Christmas tree is to start with your largest ornaments first. Once those are up, use your smaller pieces to fill in any gaps you may have. Woodard actually has a great ornament trick for creating these larger than life moments on your pink Christmas tree. By grouping three Christmas balls together with pipe cleaners, you get a fuller-looking tree in less time.
Start Looking For The Right Color Tree ASAP
Mollie Daniela (@molliedaniela), whose content is all about the pink aesthetic, struggled to find the perfect Christmas tree with the correct shade.. "I wanted an at least 6-foot, flocked, and pre-lit pink Christmas tree," she tells Elite Daily. Hot pink seems to be more popular than a subtle baby pink, so Daniela started her quest back in October. Since your tree really is the base of your pinkmas decor, start looking sooner rather than later.
Pick An Accent Color For Your Pink Tree
Daniela's best piece of advice for pink Christmas decor is to decide on an accent color to bring a little bit of festive cheer. "While all-pink is a dream, it may not stand out or feel fully like Christmas," she says. Deciding on an accent color may also help you find additional ornaments when pink may not be an option. For Daniela's soft, coquette-style pink tree, she went with white accents to remind her of a snowy Christmas. Reynolds also uses gold as an accent color, which can be more regal.
Create Rosettes For A Coquette Aesthetic
When you can't seem to find enough decorations to fit your chosen pink aesthetic, turn to DIY. Since Daniela is going for a coquette-style Christmas tree, she's making bows and rosettes appliques. A garland made of paper rosettes is actually a really cute way to incorporate vintage pink to your traditional tree.
Get Inspired By The Nutcracker Ballet
When you think of a pink Christmas, it's hard not to think of The Nutcracker. Almost every single creator Elite Daily talked to mentioned The Nutcracker as a source of inspiration. Yvonne says she used the Sugar Plum Fairy, with all the pastels and pinks, as inspo for her holiday decorations, and she was happy to finally find some Black and brown nutcrackers this year. "It's really important to me that I can find decor with skin tones that match mine so that I can feel represented when I look at my space," she says.
If you can't find the right nutcracker decor, DIY something. Woodard says she was inspired to create her own pink nutcracker after following Presley Paige's (@shoppresleypaige) pinkmas videos.
Get A Little Crafty For Pink Holiday Decor
Not everything you may want for your pink Christmas tree may come in the right shade. This is where it's best to get a little crafty. Whether you're painting ornaments the right color or making bows to attach to branches, DIYing your pink Christmas dreams to life can be fun. Just throw on your fave holiday movie to watch while you work, and time will fly.
Pink Christmas Trees For Your Barbiecore Holidays