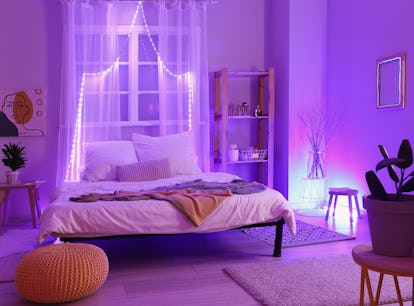 Experts Say These Spring 2023 Home Decor Trends Will Be Everywhere
The vibes are equal parts Wednesdaycore and "Lavender Haze."
Shutterstock
We may receive a portion of sales if you purchase a product through a link in this article.
Spring always feels like a good time for a refresh. It's why spring cleaning is so popular, and although Marie Kondo may be giving up on tidying up, you don't have to. As you're decluttering your space, consider adding some of the biggest spring 2023 home decor trends and aesthetics to make it more Insta-worthy as well. Speaking exclusively with experts from HomeGoods, Michaels, and JOANN, it looks like everything from modern coastal to pops of "lavender haze" colors will be trending this year as the seasons change.
Not every trend may vibe with your home, but you can definitely take some inspiration from these 10 spring home decor trends. Perhaps you've been following the vanilla girl aesthetic all over TikTok, which is a mix of luxury and comfort. If that's the case, you'll appreciate the cozy comfort trend that will be on the rise this spring, according to Anna Olsen, JOANN's Crafted Content Trend Lead. There's also something for cottagecore girlies who love mushroom decor and floral accents, as trend expert from HomeGoods, Ursula Carmona, believes touches of nature will be big.
Of course, you could also take this spring refresh moment to embrace an entirely different aesthetic. As the season changes, so can your home with any of these spring 2023 home decor trends.