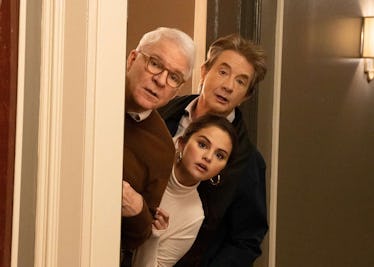 I Went To The Only Murders In The Building Pop-Up In NYC
A Rare Beauty station and a crime scene investigation? Those are two of my fave things!
Hulu
The murder mystery at the center of Only Murders in the Building Season 3 has been stumping viewers since it kicked off in early August. Who killed Ben Glenroy? There are a lot of theories based on the weekly episodes, but there's another way to hunt for clues IRL. There's an immersive experience taking place off the small screen right now that may actually help you figure it out even faster. From now through Sunday, Sept. 24, you can go to a (free!) OMITB pop-up that will take you backstage at the Goosebury Theater so you can solve the case.
Personally, I thought I knew whodunnit before I went to the space ahead of the public opening on Friday, Sept. 22. Yet none of the clues at the venue seem to point to that particular suspect. Maybe I've been wrong this whole time? Or maybe all the signs were so hidden, I couldn't find them. The theater where the pop-up takes place — and where the show was actually filmed! — is *huge* and there's so much evidence, so it's very likely that I missed a hint (or 20).
Murder mystery aside, the OMITB pop-up includes photo op after photo op, plus an entire Rare Beauty setup, where you could get makeup touch-ups by an MUA using Selena Gomez's beauty products. You could even live out your own Meryl Streep moment on stage on the stairs of the lighthouse.
Still looking for more? Here's everything you need to know about Only Murders in the Building: Backstage at the Goosebury Experience:
The OMITB Season 3 Pop-Up Takes Place In An Actual Filming Location
Unlike many New York City-based pop-ups, this one is located wayyy uptown — because it's where Gomez, Steve Martin, and Martin Short actually shot many scenes of the show. The so-called Goosebury Theater is really the United Palace, located at 4140 Broadway in the Washington Heights neighborhood of Manhattan.
When Is The OMITB Season 3 Pop-Up Open?
From now through Sunday, you can visit the IRL Goosebury Theater during the following hours:
Saturday, Sept. 23: 11 a.m. to 7 p.m. ET
Sunday, Sept, 24: 11 a.m. to 7 p.m. ET
Tickets for the Only Murders in the Building pop-up are sold out, but there's also a first-come, first-serve standby line for non-ticketed guests, so get there as early as possible. You're going to want to set aside at least an hour for the exhibit, especially if you want to snap pics and take your time looking through all the costumes, props, and set pieces, along with the clues.
With so much interactivity, the Only Murders in the Building Season 3 pop-up experience was even better than Season 2's (though I wouldn't have minded another Pickle Diner moment). The OMITB Season 3 finale will drop on Hulu on Oct. 3. Can you solve the mystery before then?