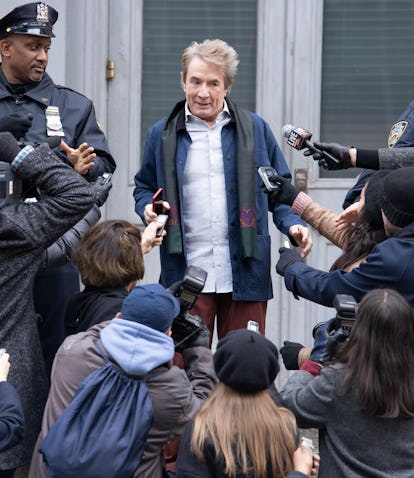 Meryl Streep Plays A Bad Actor In The Only Murders Season 3 Trailer
by Ani Bundel and Dylan Kickham
Craig Blankenhorn/Hulu
It's rare for a true-crime podcast to get a second season, which Charles-Hayden Savage pointed out at the beginning of Only Murders in the Building Season 2. Usually, if a podcast about a crime is a hit, that means it wrapped up the case and can return as an anthology. However, Bunny's stabbing in Only Murders changed the game, creating another case to solve in the very building their podcast is about. And it turns out, the Arconia's residents better lock their doors, because Hulu renewed Only Murders in the Building for Season 3, indicating another case is on the way.
Much like Only Murders' last renewal, Hulu's announcement of the re-up came long before the latest case had been solved. The Season 2 announcement came about halfway through the first season, leaving fans to wonder if Tim Kono would ever get justice. Of course, the first season wrapped up the Tim Kono mystery thoroughly, but introduced a new one in the final moments. In that same vein, Season 2's finale revealed Bunny's murderer, but ended on a shocking cliffhanger as the star of Oliver's Broadway play (a surprise cameo by Paul Rudd) mysteriously perished during the show.
That means the question for Season 3 will revolve around this strange new murder mystery. Everyone is a suspect, it seems, from longtime Arconia residents to new faces who will be popping up in Season 3.
Only Murders In The Building Season 3 Updates
On July 11, 2022, Hulu announced the series had been renewed for a third season. "Only Murders in the Building is the true crown jewel of our slate," Craig Erwich, the president of Hulu Originals and ABC Entertainment, said in a press release sent to Elite Daily about the announcement. "Its appeal across generations, the intersection of humor and heart, and its truly original approach are a hallmark of and testament to Dan, John, Steve, Marty, and Selena's work. We are grateful to be able to continue telling the stories of Charles, Oliver, and Mabel to viewers that have consistently shown us they crave more of this story."
Only Murders In The Building Season 3 Cast
Obviously, the podcasting trio of Steve Martin as Charles-Haden Savage, Martin Short as Oliver Putnam, and Selena Gomez as Mabel Mora will return for the third season. Many Arconia faves are also expected to return, along with a few new faces.
The Season 2 finale introduced Paul Rudd's character Ben Gilroy, who will return in Season 3. Since Ben became the show's new victim in that finale, it's not clear just how much he will appear in Season 3, but Rudd is confirmed to return for the new season.
Also joining the third season is Grey's Anatomy breakout Jesse Williams. Williams' character is teased as a documentarian with a special interest in the new case that Mabel, Charles, and Oliver will be working to unravel.
On Jan. 17, Gomez revealed another major Season 3 guest star by sharing a behind-the-scenes video on set. At the end of the clip, Gomez turned the camera to none other than Meryl Streep, confirming the Oscar winner will appear in the new season.
On Feb. 24, Emily in Paris star Ashley Park joined the Season 3 cast in a recurring role. Park will play a Broadway actor named Kimber, which is a perfect role for her since Park herself is a Tony-nominated Broadway breakout, best known for originating the role of Gretchen Wieners in the Mean Girls musical. Park shared a funny video on set with Gomez and Short to announce her addition to Season 3.
Only Murders In The Building Season 3 Trailer
The full trailer for Season 3 arrived a couple week's ahead of its premiere. In it, Mabel, Charles, and Oliver try to deduce who killed Ben by investigating the cast of Oliver's stage show. In a hilarious turn of events, Meryl Streep's character Loretta is a weak link among the cast in terms of her acting chops, which makes her a prime suspect after ben insisted she be let go from the play.
Only Murders In The Building Season 3 Release Date
Hulu confirmed the new season of Only Murders in the Building will drop on Tuesday, Aug. 8.
This article was originally published on