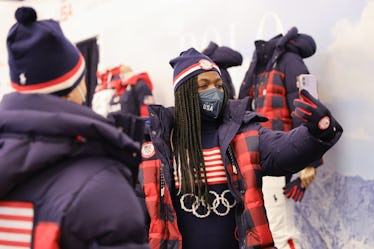 45 Olympic Puns For Instagram Captions That Have A Nice Ring To Them
Amy Sussman/Getty Images Sport/Getty Images
The 2022 Winter Olympics kick off on Friday, Feb. 4 with an opening ceremony at the Beijing National Stadium. While the athletes are preparing to compete for gold, you're preparing the popcorn for your watch party where you'll cheer on your fave team from the comfort of your couch. You may even be scheduling a hang with your besties in the group chat right now to watch the games all together. Along with some snacks, you'll also want to have some Olympic puns on hand for posting your fave pics to Instagram.
When it comes to Instagram captions, puns really do stand above the rest. When your caption is LOL-worthy, that is when you may notice more likes rolling in. So, for a winning post during your Winter Games coverage, you'll want to have some Olympic puns ready to go. Since the Winter Olympics are happening now, having some good snow and ski puns is always a great idea. However, to make sure you're covered for any Olympic event, this list of 45 Olympics puns can be used to caption many areas of the games.
For instance, use a funny sports pun to caption the homemade Olympic games you set up in the backyard with your roomies, or use an Olympic rings pun for your foodie pic of onion rings. You could even use an Olympic pun for your red, white, and blue OOTD as you're cheering on Team USA. Whatever the situation, you'll be ready to win big... likes.
"Snowing for the gold."
"The vault in our stars."
"Should have put an Olympic ring on it."
"These athletes are very goal-oriented."
"May all your swishes come true."
"I après-ciate how hard these athletes work."
"If you expect your team to win, don't gold your breath."
"You Midas well win gold."
"Having an ice day watching the Olympics."
"These athletes are un-brrr-lievable."
"It's all downhill from here."
"This Olympic Games have a piste of my heart."
"I love watching the Olympics snow much."
"With great powder comes great responsibility."
"'Tis the ski-son to watch the Olympics."
"Don't be piste if your team doesn't win."
"I could never get board of watching the Olympics."
"Ski ya at the Olympics."
"I'm just glide to be watching the Olympics."
"Winning the Olympics would be Ausome."
"Let's watch the Olympics together like gold times."
"I used to have a fear of hurdles, but I got over it."
"The Winter Olympics is where winners are also lugers."
"We make a great team."
"This is the coolest Olympics ever."
"Lord of the Olympic rings."
"What a winter-ful Olympic Games."
"There's snow stopping Team USA."
"I just glove watching the Olympics."
"It's snow laughing matter when you're team is behind."
"Just having a snowball watching the Olympics."
"It takes an Olympic village."
"It must be ice to win gold."
"There's snow place like home when the Olympics are happening."
"OK, icy what you did there."
"If you win, you have a license to chill for the rest of the games."
"It's Olympic snow-time."
"We're squad golds."
"Muffin compares to winning the Olympics."
"I'm rooting for you snow matter what."
"These Olympic athletes are brrr-illliant."
"It was mitten in the stars that Team USA will win."
"You've got to freeze the day if you want to win."
"I like to go with the snow."
"After all is sled and done, I still love the Olympics."