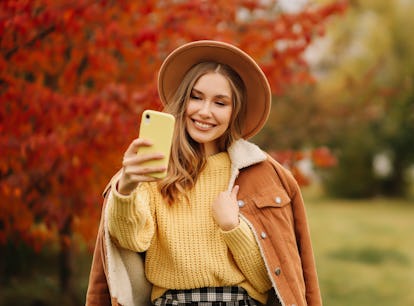 November Captions & Quotes For Posting Cozy Fall Photos On Insta
Embrace an attitude of gratitude.
Elizaveta Starkova/Moment/Getty Images
It's already November — can you be-leaf it? This time of year always sneaks up after a long spooky Halloween season, softy welcoming us into the coziest, final month of the fall time. November offers the last few moments to enjoy the warm fall foliage and is finally cold enough to dig out your favorite turtleneck sweater and leather boots. Before the holiday season comes around the corner, there's still so much to look forward to, like catching up with friends at a potluck dinner party or embarking on a sunny hike to catch beautiful mountain views before the leaves fall and the weather turns frigid. Wherever your plans take you this month, grab these November quotes and captions for seasonal Instagram pics that you're feeling thankful for.
November brings in all the best parts of the fall time: cozy clothes, hearty meals, and a return to quality time with loved ones. You may already be planning your menu for Friendsgiving or Thanksgiving, and dreaming about marshmallow yams and savory gravy you could literally swim in. November might remind you of the meme that goes, "now that it's fall, I can really start dressing," so you have the itch to stock up on cute new jackets and rain boots to last you through the end of the year with some Black Friday sales. While you're having fun this month, make sure to grab some cute photos to post on the 'Gram to remember the last moments of fall. If you're looking for funny, sweet, and clever Instagram captions to pair with your posts this months, check out these 50 November quotes and fall lyrics that'll surely spice up your pics.
"Like the colors in autumn, so bright, just before they lose it all." — Taylor Swift, "Red (Taylor's Version"
"Can't believe that October is Octover."
"The days are getting colder. Keep a warm heart."
"November comes and November goes, with the last red berries and the first white snows."
"Have an attitude of gratitude."
"The hush comes with the deepening of autumn, but it comes gradually."
"The season of falling leaves and hibernating trees."
"If a year was tucked inside a clock, then Autumn would be the magic hour." – Victoria Erickson
"The trees are about to show us just how beautiful it can be to let things go."
"Take me back to November." – Tyler The Creator, "November"
"Autumn is a second spring when every leaf is a flower."
"I can smell autumn dancing in the breeze, the sweet chill of pumpkin, and sunburnt leaves." – Ann Drake
"Peak sweater weather."
"I realized I loved you in the fall." — "Back To December"
"Pumpkin spice and everything nice."
"Even the leaves are falling for you."
"November brings a heaping serving of humble pie."
"Crunching, crinkling autumn leaves, spiraling, swirling in the breeze."
"A wind has blown the rain away and blown the sky away and all the leaves away, and the trees stand. I think, I too, have known Autumn too long." – E.E. Cummings
"Eat pie, drink wine, and be thankful."
"Don't even chai."
"It's turkey time."
"Is it too early for Christmas music?"
"I have mashed potatoes on my mind."
"Autumn carries more gold in its pocket than all the other seasons." – Jim Bishop
"Sweater weather is better together."
"Hate to be corny, but..."
"My cutie pies."
"Don't sweat the fall stuff."
"How 'bout them apples?"
"Can't reply, eating pie."
"It looked like the world was covered in a cobbler crust of brown sugar and cinnamon." – Sarah Addison Allen
"Go big or gourd home."
"He was sunshine, I was midnight rain." – Taylor Swift, "Midnight Rain"
"What did the tree say at the end of autumn? Fall's well that ends well."
"Around this time of year, I prefer to wear sweatpants to dinner."
"There are two times of the year. Autumn and waiting for autumn."
"It's not happy people who are thankful, it's thankful people who are happy."
"No-rest November."
"Maybe she's born with it. Maybe it's maple leaves."
"Spice, spice, baby."
"Sweet, sweet, sweet November." – Sza, "Sweet November"
"Thankful. Grateful. Plate full."
"November is for lovers."
"Chapter 11 of 12."
"Chilly breeze, shorter days, and magical nights."
"There comes a time when people get tired of being pushed out of the glittering sunlight of life's July and left standing amid the piercing chill of an alpine November." – Martin Luther King, Jr.
"B-autumns up!"
"Am I oakay? Of course, I'm pine."
"Fall-elujah!"