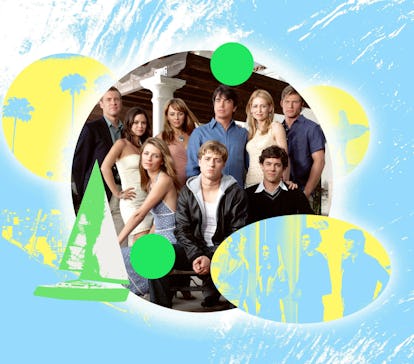 How I Spent 44 Hours In The O.C.'s Newport Beach
BRB, pretending I'm Marissa Cooper.
Dewey Saunders/Elite Daily; Shutterstock
Back in 2003, Beyoncé was "crazy in love," Paris Hilton determined what was hot, and Ryan Atwood (played by Ben McKenzie) went to Newport Beach to live with the Cohens on the pilot episode of The O.C. It's hard to believe that it's been 20 years since the teen drama premiered on Fox, but that's because the show is still as relevant as ever. Now that Y2K style has made a comeback, Summer Roberts (Rachel Bilson) and Marissa Cooper (Mischa Barton) are Gen Z fashion icons with their low-rise jeans and strappy tank tops. Whereas awkward brunette leads like Adam Brody's Seth Cohen have only become trendier over time. That mixed with The O.C. delivering historic moments in pop culture history, like the time Marissa shot Trey with Imogen Heap's "Hide and Seek" playing in the background, have all attributed to its timelessness.
I didn't actually watch The O.C. during its original run on television, but I rectified that misstep in 2020 when I marathon-watched the series for the first time. Immediately, I was sucked into the drama, and found myself loving bad boy Ryan, "It girl" Marissa, bestie Summer, and nerdy Seth. So, when I was given the chance to visit Newport Beach and some of the places where The O.C. was filmed, I had to say yes. Of course, anyone living in Newport Beach will tell you two things: No one actually refers to it as the O.C., and a majority of the show was filmed in other Southern California locations like Redondo Beach, Manhattan Beach, and Long Beach instead.
However, the characters on the show live in Newport Beach, and a lot of the filming locations were inspired by actual places there, so I planned a getaway to live like Ryan, Marissa, Summer, and Seth for 44 hours. Aside from its teen drama connections, Newport Beach has been on my bucket list of places to visit in Southern California for a while. Depending on traffic, it's less than two hours away from Los Angeles. Unlike Santa Monica and Malibu, which are closer to LA, Newport Beach has a small-town charm with luxury mixed in. You can find everything you're looking for in a beach retreat, whether that's eating delicious seafood, relaxing in the sand, or just going out on the harbor.
During my time there, I was able to shop like Marissa at the Fashion Island mall, grab a snack at the diner on the pier, and even ride around on a boat like Seth's Summer Breeze. Here's everything I did during my O.C.-themed getaway.
Wednesday, July 19, 2023
4:30 p.m.: After driving from Los Angeles to Newport Beach — all while listening to The O.C. soundtrack and Phantom Planet's "California" — I checked into VEA Newport Beach, A Marriott Resort & Spa. Living at a luxurious resort for a few days made me feel like Ryan when he moved into the Cohen's pool house. The best part about my room was that the window overlooking the golf course and ocean was actually a sliding glass door that you could open all the way to take in the sea breeze.
6 p.m.: After unpacking, I walked over to the Fashion Island mall, which was right across the street from my hotel. Exterior shots of the mall were used in The O.C. Season 2's "The Mallpisode," when the group gets locked inside for the night. Most of Fashion Island is outdoors, so it would be hard to get stuck there IRL, but I still had fun walking around and shopping. My mission was to find a Y2K outfit that Marissa and Summer would wear.
7 p.m.: Once I found a 'fit of lower-rise jeans (I'm not ready to go back to actual low-rise jeans just yet) and a breezy halter top, it was time for dinner at JOEY Newport Beach. JOEY is a new restaurant in town, but I could see Caleb Nichol meeting up with a client for cocktails at JOEY. When I arrived, the hostess gave me a free glass of champagne to sip on by a fire pit while I waited for my table. At this point, I felt like I was Julie Cooper and loving the luxe life. Once I was seated, I ordered the Korean Fried Cauliflower and Truffle Parmesan Fries to start, followed by the Steak & Ravioli Bianco for my main course. Everything was delicious, but instead of ordering dessert at JOEY, I passed to get something you can only get in Newport Beach.
9 p.m.: To end the night, I drove over to Sugar 'n Spice on Balboa Island — aka the frozen banana stand. This isn't a filming location from The O.C., but it inspired Bluth's Original Frozen Banana stand in Arrested Development. As a set-jetter, I couldn't miss the opportunity to see this iconic location and order one of my favorite desserts, a chocolate-covered banana. I got mine with all of the toppings, which included peanuts, sprinkles, and M&Ms.
Thursday, July 20, 2023
9:30 a.m.: The next morning, I grabbed breakfast at the resort's View at Vea Newport Beach restaurant, which included a delicious french toast with Meyer lemon ricotta and blueberry compote. I can totally picture Marissa and Summer grabbing brunch here and dishing on the latest drama before heading to the mall.
11 a.m.: With the sun out, it was time to really explore The O.C.'s Newport Beach. My first stop of the day was to drive by Corona del Mar High School. This was the high school executive producer McG attended, and the main inspiration for the fictional Harbor High School featured in the show. Since this is a real school, I just drove by on my way to the next location. From the street, you still could see some of the outdoor SoCal school, and it reminded me of scenes where Marissa, Summer, Ryan, and Seth were walking to class.
11:30 a.m.: Lido Marina Village was something everyone on TikTok was recommending for things to do in Newport Beach. While most of the stores were out of my price range, I was happy just to walk around the Insta-worthy shopping center. I did stop at Rye Goods, though, to get a bagel and cream cheese in honor of OG daddy Sandy Cohen.
1:30 p.m.: The Balboa Fun Zone was my next stop, which is like a mini amusement park next to the water. This location was used as an exterior shot in The O.C. Season 2, Episode 17. You might recognize it right away because of its colorful Ferris wheel, which was also used in Donald Glover's "V. 3005" music video. Since a ride was only $5, I had to try it out. Not only did it provide gorgeous views of the Balboa Peninsula, but it was also a long ride that lasted almost 10 minutes. Sitting there, I was reminded of Marissa and Ryan's first kiss in Season 1 — which also took place on a Ferris wheel.
2 p.m.: On one side of the peninsula is the bay, where the Balboa Fun Zone is. The other side is the beach, so I walked over to the Balboa Pier. While the show used exterior shots of the Balboa Pier to make it look like they were in Newport Beach, the show actually filmed at the Redondo Beach Pier. Walking along it, I still felt like Marissa, Ryan, and Seth in The O.C. Season 1, Episode 2.
2:30 p.m.: At the end of Balboa Pier is Ruby's Diner, which reminded me of the fictional Pier Diner from The O.C. The actual filming location is Redondo Coffee Shop, which is over an hour away from Newport Beach. I was still a bit full from my bagel, so I just treated myself to a brownie sundae.
4:30 p.m.: In the afternoon, I took a cruise with Sea Señorita Duffy around Newport Beach Harbor. They provided champagne and a charcuterie board, and allowed me to hook up my phone to play whatever music I wanted. While snacking on cheese and grapes, our captain pointed out the expensive homes on the harbor. Apparently, a lot of property in Newport Beach is owned by the real estate Irvine Company, which is like Caleb Nichol's Newport Group that Kirsten Cohen worked at. Our excursion on the water was definitely a highlight of my trip. I had fun looking at all the luxe mansions, wishing some rich family would take me in as the Cohens did with Ryan.
Friday, July 21, 2023
9 a.m.: After checking out of the VEA Newport Beach, I drove over to Pelican Hill. The gated neighborhoods in this area were the inspiration behind the Cohens' Pelican Cove neighborhood. One of the guard booths looked precisely like the one from the pilot when Sandy drives Ryan home with him for the first time.
9:30 a.m.: I had breakfast at The Resort at Pelican Hill's Coliseum Grill, which ended up being one of the most stunning spots in Newport Beach. The view was amazing from the hill (once the fog cleared up), and the architecture really reminded me of Caleb Nichol's home in The O.C. I feel like this would be a regular lunch spot for him.
11 a.m.: Afterwards, I drove back to the Balboa Fun Zone, because I wanted to ride the ferry to Balboa Island. It only cost $1.50, and it was well worth seeing everything from the water.
11:15 a.m.: Over on Balboa Island, I walked to the main street, which is where I got my frozen banana the first day. Balboa Island has small-town charm, with the cutest homes and tons of adorable boutiques to stop in for souvenirs. Instead of shopping for gifts, though, I had to get a Balboa Bar. Along with frozen bananas, Balboa is known for their chocolate-covered ice cream bars. This time, I got my treat at Dad's Donut & Bakery Shop and opted for adding peanuts on top.
12:30 p.m.: Before leaving town, I stopped by another TikTok suggestion — Pirates Cove Beach. Rocks surround this hidden gem beach, so it looks like you've found a secret spot. I was sure to be extra careful climbing up the rocks, because I saw what happened to Johnny on The O.C. From the top, I got some gorgeous pics of the water. It was a beautiful way to end my time in Newport Beach.