Rooting For The Anti-Hero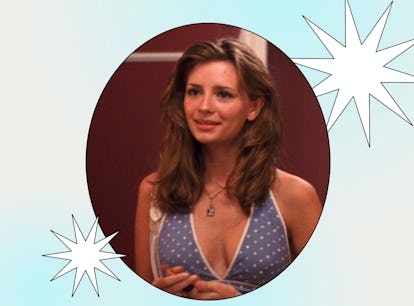 Why Marissa Cooper From The O.C. Doesn't Deserve All The Hate
Leave this Y2K queen alone!
Warner Bros. Television/Elite Daily
The O.C. had it all, from drama to a hit soundtrack. Anytime you hear Phantom Planet's "California," you immediately think of bad boy Ryan Atwood, the OG daddy Sandy Cohen, and of course, Newport queen Marissa Cooper, who was played by Mischa Barton. The characters on The O.C. made the show a success for four seasons from 2003 to 2007, but time and re-watches have not been kind to Marissa. Over the years, she's found herself on a few lists for the worst TV show characters ever — she's seen as a selfish and privileged teen who creates problems for everyone around her. But after rewatching the series now as an adult, I'm certain that Marissa Cooper doesn't deserve the hate she received on The O.C.
Sure, Marissa appeared to be a spoiled, rich girl from Newport Beach, California, at first glance, but you know by now that you shouldn't judge a book by its cover. Even if you pass judgment on the social chair of Harbor High School, you can't deny she was a Y2K fashion icon. If you need a lesson on how to accessorize an OOTD of low-rise jeans and layered tank tops, look no further than Marissa — even her wavy hair and frosted eyeshadow lewks were spot on. (And don't you dare forget her prom dress from Chanel's Spring 2006 collection.)
Underneath the Chanel dresses and designer baguette bags, Marissa was just a teenager who craved love and support after dealing with bad parents. After re-watching The O.C. as an adult, Sheri, 33, tells Elite Daily that Marissa was "the product of a really twisted family who didn't care about her." In fact, Sheri argues that Julie Cooper, Marissa's mom, was "the ultimate villain of the show." In the first season, Marissa's parents get divorced after her dad cons all of her neighbors for money. Julie rebounds immediately with Caleb Nichol, followed by Marissa's ex-boyfriend (and high school student), Luke.
Marissa's rebellion was always justified by her circumstances.
Marissa's father, Jimmy Cooper, doesn't exactly deserve any awards for best dad. In fact, he may have caused more emotional harm to Marissa. "Jimmy Cooper was a deadbeat who abandoned his family," Sheri says. Whenever he would get into financial trouble, he would skip town without any remorse for the family he left behind. In Season 3, Marissa finally tells her dad that if he leaves again, she doesn't want him to come back. Ouch, but fair. "Marissa's rebellion was always justified by her circumstances," Sheri says.
And let's not forget about the boys who took advantage of her. That's right, even Ryan Atwood, who was painted as a misunderstood guy from Chino, was actually a not-so-great boyfriend with a savior complex and anger issues. Remember when he punched the dean of discipline at the school fair for making Marissa leave? He fights enough people in the show to feed fans wanting to create bad-boy Ryan edits. Natalie, 29, tells Elite Daily he was a toxic boyfriend. "He was quick to anger, possessive of Marissa," she says. In the end, both Oliver Trask and Johnny Harper were not great "friends" to Marissa — since they wanted more — but Ryan had issues with any guy she spent time with. Fans like to think Marissa and Ryan were MFEO, but it's more like they were made for anyone else. Ultimately, they should share the blame, but Amelia, 32, believes that since Marissa is "beautiful and rich," she is made out to be the villain "when her actions negatively impact Ryan."
Marissa's boyfriends were quite literally her downfall (*ahem* Volchock), but she had one relationship that granted her icon status — when she dated Alex, played by Olivia Wide. Alex and Marissa's relationship was one of the few examples of queer representation on TV in the early 2000s. Anyone with basic cable could see their undeniable chemistry, and Amelia admits, "Marissa and Alex's is the first queer kiss I can remember watching."
Looking back, Marissa was a low-rise jean-wearing, misunderstood "queer icon" who deserves so much more than her villain-edit status. If it's been a hot minute since you last visited Newport Beach, it might be time to re-watch The O.C. and see exactly what the rest of us Marissa apologists see.