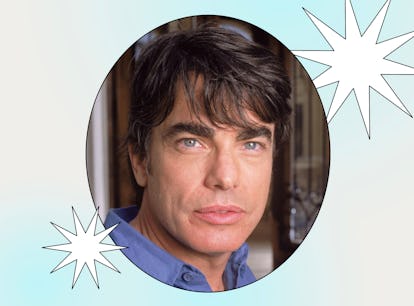 The O.C.'s Sandy Cohen Is The Original Daddy
Step aside, Pedro Pascal.
Warner Bros
Making the name Sandy sound hot is no small feat, but Sandy Cohen (played by Peter Gallagher) managed it for four full seasons on The O.C. In the show, Sandy wasn't just a father figure to the other characters, he was daddy to everyone watching. Whether he was offering schmeared bagels or sage advice, he was the ultimate nice guy — who also happened to be seriously hot. As Summer Roberts told him in one episode, "You're very attractive... for a dad. Distinguished." (Agreed.)
So, what makes Sandy the OG daddy? The internet's favorite daddies all have some things in common: They're a little older, a little stern, and a lot reliable. From 2003 to 2007, Sandy was the embodiment of daddy — predating the daddy-fication of Pedro Pascal, David Harbour, and Idris Elba. Besides the fact that he was a legitimate dad to Seth Cohen (and stand-in dad for Ryan Atwood), public defender Sandy always brought the I'll-take-care-of-you energy that is as rare as it is attractive.
From his eyebrows to his dad jokes, Sandy was everything a daddy should be — and he knew it. As he pointed out in one episode, "We Cohens are very sexual beings. Virile. Get used to it." Throughout the show, he taught Ryan how to tie a tie and gave Seth much-needed sex advice about the importance of foreplay ("The appetizer is as good as the main course"). In other words, Sandy had daddy written all over him.
Josh Schwartz, the creator of The O.C., might not have been able to predict Sandy's daddy trajectory, but he always knew the character would play a central part in the show's legacy. Gallagher was the first actor cast for the show — and it was a strategic move. "Peter Gallagher was actually the first person we cast," Schwartz explained to Time in 2013. "And we really wanted to cast somebody who was not only a terrific actor but also somebody with a real profile. Who, when you heard they were playing the dad in this show, you realized, 'Oh, this is not just a show about the kids. It's also going to be very much about the adults.' And Peter really lent the gravity to that role, and also the profile to the show." (His baby blues didn't hurt, either.)
Having a bit of a daddy crush on Sandy isn't exactly unique. In fact, most people who watched The O.C. have found themselves caught somewhere between wanting Sandy to fall in love with them or adopt them.
Sandy is the hot dad blueprint few can live up to. (Here's looking at you, Rufus Humphrey.)
Also, shoutout to Sandy for introducing the world to a sixth love language: bagels.
Since the show stopped airing in 2007, it can be easy to forget about Sandy's endless appeal. Fortunately, he's now on Hulu, waiting to be streamed, whenever you need a reminder.
I mean, even Summer wasn't immune to his charms... and can you blame her?
There you have it: Sandy Cohen, daddy extraordinaire.