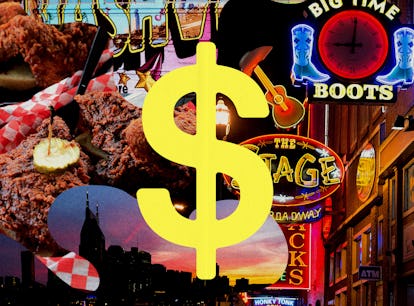 How To Spend 48 Hours & $480 On A Girls' Getaway In Nashville
Make coastal cowgirl your entire personality for a weekend.
Elite Daily; Getty Images/Shutterstock
Coastal cowgirl is the moment right now, so it's fitting that Nashville is back on everyone's radar. Between It girlies like Alix Earle and her BFFs documenting their Nashville adventures on TikTok and Beyoncé's Renaissance Tour disco cowgirl era taking over your FYP, visiting the hometown of country music should be at the top of your 2023 travel bucket list. After going for girls' trips a few times over the past couple of years, I've realized 48 hours in Nashville is the perfect amount of time to hit some of the city's best places to eat and things to do.
IMO, a weekend itinerary in Tennessee's capital wouldn't be complete without eating your weight in barbecue and Nashville hot chicken, dancing the night away on Broadway's Honky Tonk Highway, browsing for real cowboy boots, and visiting the city's historic music landmarks, but there's so much more to do than just the tourist musts.
Swifties can pay homage to Taylor Swift's "invisible string" by swinging by Centennial Park or by visiting Bluebird Cafe where the singer was discovered in 2004. If you're not a country music fan, you'll enjoy heading to the trendy Gulch neighborhood to find underground speakeasies, the coolest boutique shops, and some of Nashville's best biscuits. Ahead of an upcoming bestie weekend trip to Nashville, I put together a $480 itinerary with my favorite things to do in Music City.
Friday
6:30 p.m.: Arrive in Nashville
I booked a stay at the new Four Seasons Hotel Nashville (about an 18-minute drive from the airport), which is located in the SoBro neighborhood just one block away from Broadway. After spending a ton on Ubers during my last few visits, I think it's worthwhile to spring for a hotel that's walking distance from Nashville nightlife. You can freshen up at your hotel and walk the 12 minutes to Hattie B's Hot Chicken on Broadway (otherwise, it's a four-minute Uber).
Cost: $23 from Nashville airport to hotel
7:30 p.m.: Get dinner at Hattie B's Hot Chicken on Broadway
IMO, Nashville hot chicken is the GOAT of city-specific food specialties, so your first stop should be Hattie B's Hot Chicken, which serves up fiery, deliciously crispy fried chicken that'll make your tastebuds tingle — in a good way. Unless you can really take a lot of spiciness, I'd suggest going for a medium or hot level, and pairing your fried chicken with the pimento mac and cheese, fried pickles, and creamy cold slaw to tone down some of the heat. There's always a long line, so I'd also suggest heading to the equally delicious Prince's Hot Chicken Shack on Broadway (a 13-minute walk from the hotel) if you don't want to wait too long for your spicy fried chicken fix.
Cost: $9 sandwich with a side + $3 banana pudding + $3 iced tea = $15
9:30 p.m.: Get a craft cocktail at Patterson House
If you're into craft cocktails, Patterson House — a 10-minute drive from Hattie B's — has a great menu (and a top-notch selection of whiskeys) to choose from. The Prohibition-era decor and ambiance, plus the fact you're not supposed to use your cellphone, transports you back in time, plus it's a fun excuse to dress up (there's a business casual dress code) and experience a side of Nashville away from the rowdy country vibes of Broadway.
Cost: ~$35 for two cocktails + Ubers from Hattie B's and back to hotel = $50
Option 2: If the wait is too long or you want a livelier spot where you can mingle, take an 11-minute Uber to the Old Glory speakeasy, which you can find by locating the door with a gold triangle off Edgehill Avenue. Not only is the four-story bar — a boiler room in the 1920s — one of the coolest bar spaces I've ever seen, but it also serves up inventive cocktails like a Juniper Martini. On the second Saturday of every month, the Suspended Gravity Circus comes and performs, making it a unique stop for a show and drinks.
Cost: ~$35 for two cocktails + Ubers from Hattie B's and back to hotel = $50
Saturday
9 a.m.: Grab an early brunch at Biscuit Love in the Gulch
Getting up before noon on a Saturday during a bestie getaway might sound like a tall order, but hear me out. An 11-minute Uber ride from the hotel, Biscuit Love serves the best biscuits I've ever had, and the thousands of five-star ratings speak for themselves. Unfortunately, the wait for specialties like the Nasty Princess (a flaky biscuit sandwich topped with crispy fried chicken, heaping spoonfuls of gravy, and a fried egg) can get really long, so arrive as early as possible.
Cost: $16.50 Nasty Princess + $5 cappuccino + $12 Bloody Mary + $8 Uber to Biscuit Love = $41.50
11 a.m. Window shop in the Gulch Neighborhood
Walk off your biscuits and gravy coma by checking out some of the shops in Nashville's Gulch neighborhood, which has recently become one of the city's trendiest areas. In addition to chain brands like Lululemon and Urban Outfitters, you can browse luxe cowboy boots at Lucchese, check out the instruments at Carter Vintage Guitars (which has two guitar-inspired murals you can grab a pic in front of), and try on cowboy hats at Rustler Hat Co. Here, you'll also find Kristin Cavallari's jewelry and home store, Uncommon James, and Jessie James Decker's clothing store, Kittenish.
Cost: $0
12:30 p.m. Grab lunch on the patio at Saint Añejo
For lunch, walk to one of Nashville's best Mexican restaurants in the Gulch neighborhood. Saint Añejo has a super cute patio and a good mix of both creative and traditional tacos. Don't forget to order one of their margarita pitchers to split if you're there with a big group.
Cost: $16.50 for 3 tacos + $42 margarita pitcher = $71
Option 2: If you aren't craving Mexican food or want a quicker option, head to Emmy Squared's Gulch location for a slice of delicious Detroit-style pizza. I like ordering The Colony, which has red sauce, ezzo pepperoni, pickled jalapeños, and honey.
Cost: $19 for The Colony + $18 chopped Italian salad to share + $14 cocktail = $51
2 p.m. Take some 'fit pics at Nashville's most famous murals
The Gulch has some of Nashville's best murals, making it the perfect spot to grab some pics for your Nashville photo dump. Make sure to pose at the "What Lifts You" Wing mural and the "Acoustic Skyline" mural. Your IG will thank you later.
2:30 p.m. Head back to the hotel to rest and get ready for the night
Cost: $8 Uber back to the hotel from the Gulch
5:30 p.m. Grab dinner at Martin's Bar-B-Que Joint
Martin's Bar-B-Que is a delicious spot to try a traditional "meat 'n' three," and it's only an eight-minute walk from the Four Seasons. My friend and I split a Big Brother Sampler with a rack of ribs, brisket, baked beans, and cornbread hoecakes, in addition to some melt-in-your-mouth pulled pork shoulder, so we could try a little bit of everything. I'd recommend the Big Poppa Sampler ($149.49) if you have a larger group.
Cost: $37.69 for Big Brother Sampler plus ~$20 for drinks = $58
8 p.m.-2 a.m. Start your night out on Lower Broadway
Broadway, aka Honky Tonk Highway, is one of my favorite going-out areas during a girls' trip. Plus, it's just four blocks away from Martin's Bar-B-Que, making it an easy walk. Even if you aren't the biggest music country fan, the vibe of the live music and people-watching is so much fun, and it's the perfect excuse to bring your coastal cowgirl aesthetic out on the town. The best plan of action is starting on Lower Broadway and then popping into bars that look lively. Some can't-miss spots include The Stage on Broadway, Jason Aldean's Kitchen + Rooftop Bar, Nudie's Honky Tonky, and Honky Tonk Central. Tootsie's Orchid Lounge is also an iconic Nashville bar for country music on Lower Broadway, but I prefer visiting its rooftop during the day. The best part is that most of these bars have multiple levels, so you can always bop around if you don't like the live music that's playing in any particular spot.
Cost: ~$40 for three cocktails + $8 Uber home = $48
Sunday
11 a.m. Check out of your hotel and grab brunch at Adele's in the Gulch
The best way to get over a hangover post-Broadway night is with the all-you-can-eat brunch at Adele's, which is a nine-minute walk from the hotel. In addition to continental breakfast buffet faves, make sure to try the blueberry lemon Johnny cakes, the cured meats, and the surprisingly great salads.
Cost: $8 Uber to Adele's + $32 all-you-can-eat brunch = $40
12:30 p.m. Grab a cocktail and pics at White Limozeen
The Barbie hype is real, so visiting a Dolly Parton-themed rooftop bar that's hot pink everything is kind of a must. Located at the top of Nashville's Graduate Hotel in Midtown, White Limozeen is a six-minute drive from Adele's and has so many great photo-ops and a pool that reminds me of the Trixie Motel in Palm Springs. Drinks are expensive, so grab a cocktail or two and take in the views of Downtown Nashville before heading to dinner. Just keep in mind that reservations are sometimes booked two weeks in advance, so this is something you'll need to plan ahead.
Cost: $15 frozen Aperol Spritz + $12 Uber from Adele's = $28
OPTIONAL: Plan a Swiftie afternoon at Centennial Park and The Bluebird Cafe
Swifties who want to want to visit Taylor Swift's favorite Nashville spots will want to visit Centennial Park and The Bluebird Cafe. Centennial Park is a little closer to the Vanderbilt University area, so I'd recommend stopping by there after White Limozeen (a four-minute drive by Uber). The Bluebird Cafe is a hike all the way in Nashville's Green Hills (it's about a 13-minute Uber drive from Centennial Park and a 15-minute Uber ride from White Limozeen, but in different directions), so you might want to prioritize depending on how much time you have. If you decide to add this to your itinerary, shorten the amount of time you spend near the Country Music Hall of Fame.
Cost: $13 Uber from White Limozeen to Centennial Park + $16 Uber from Centennial Park to Bluebird Cafe + $11 Uber to Tootsie's Orchid Lounge = $40
1:30 p.m. Head back to Lower Broadway to catch a live performance at Tootsie's Orchid Lounge
Take a 13-minute Uber back from White Limozeen to Lower Broadway to Tootsie's Orchid Lounge, which is a Nashville staple. IMO, it's even more fun during the day than it is at night because it's pretty small and always packed. The rooftop can get hot, but the crowd and live music are lively at all hours.
Cost: $10 for a drink + $13 Uber from White Limozeen = $23
3 p.m. Cool off while checking out exhibits near the Country Music Hall of Fame
Before heading to the airport, country fans can cool off by visiting the Country Music Hall of Fame and Museum, which is a six-minute walk from Tootsie's. If you're not really a country fan or don't want to pay the $27.95 admission fee, I'd personally recommend skipping the museum and checking out the free country exhibits in the building (there was a small Johnny Cash one when I went) or go to Hatch Show Print, which has a lot of historic posters and prints. The building also has a lot of souvenir shops where you can find something to take home.
Cost: $0
5 p.m. Grab dinner at Butcher & Bee
After a weekend of fried chicken, biscuits, and barbecue, end your Nashville adventures with the delicious Mediterranean cuisine at Butcher & Bee, which is 13 minutes from the Country Music Hall of Fame. Some favorites include the whipped feta, the avocado crispy rice, and the smash burger. Plus, the patio and the ambiance are great, so this is a good place to hang out until you go to the airport.
Cost: $15 Uber to Butcher & Bee + $46 for whipped feta, avocado crispy rice, and smash burger + $14 cocktail = $60
6:30 p.m. Drive 15 minutes from Butcher & Bee to the airport
Cost: $21 Uber from Butcher & Bee