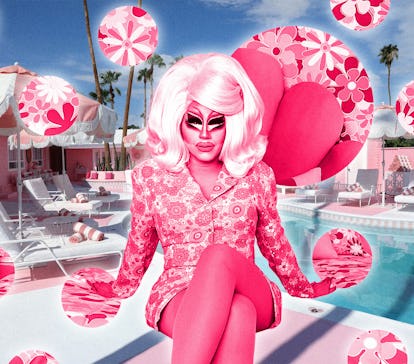 A Day At The Trixie Motel In Palm Springs
This Barbiecore stay is "a place where you'll want to say hi to your neighbor," says owner Trixie Mattel.
Lais Borges/Elite Daily
It's an unusually gray day in Palm Springs when I turn onto Stevens Road, but the Trixie Motel emerges from the clouds, its hue of bubblegum pink impossible to miss. My friend and I are here to tour the hotel for the day, and its bright wraparound wall culminates in a golden sun that beams in the face of any impending raindrops. Walking past the retro white-and-pink motel sign peeking over the hedge, it's clear that owner and drag queen Trixie Mattel, her partner David Silver, and designer Dani Dazey have manifested her essence onto the entire building. It's a Barbie-inspired, 1960s Americana aesthetic reimagined for the 21st century, as much a feast for the eyes as the iPhone.
In the short time it's existed, visiting the Trixie Motel has become an experience that's quintessentially Palm Springs — after all, the city is a destination beloved for its mid century modern architecture and retro design. "Trixie Motel and Palm Springs have a lot in common, right? They're super Americana, super California, kind of frozen in time," Trixie says when we talk on the phone. With successful runs on RuPaul's Drag Race (including a win on All-Stars Season 3), her Trixie Cosmetics makeup line, music albums, and so much more, Trixie has built a brand around her name and her aesthetic.
Choosing the location for her motel was actually easy, she says, because it already had "the Trixie vibe." The motel opened in September 2022 after four months of renovations, which was documented on the Discovery+/HBOMax series Trixie Motel.
After we enter that pink gate, the motel's event manager, Drew Brant, welcomes us into the lounge. It's a Trixie dream come true: A mural of lips surrounds the fireplace and the custom pink wallpaper is covered in kisses, flowers, hearts, and palm trees. For a tongue-in-cheek pop culture reference, there's a gallery wall featuring images of Trixie transposed into famous black and white photographs.
Another of my favorite details in the lounge is the customized Ms. PacMan machine — Trixie's eyelashes have been drawn onto the iconic arcade game heroine. On a cocktail table, I spot a figurine of New York nightlife icon Amanda Lepore, and admire custom pink velvet banquettes before turning to the bar for a drink. The bar — Barbara — serves custom cocktails like the aptly-named Trixie Motel, which I order: bubbly and bright in a pink glass, it's made with rosé, brandy, strawberry, orange, and lemon. We sit and chat with Drew on the soft pink chairs.
Upon arrival, guests are welcomed either into the lounge or the gift shop, Brant says, and as we continue to sip on our cocktails, he leads us to the latter. It's dotted with Barbies from Trixie's personal collection as well as her crown from her win on RuPaul's Drag Race All-Stars 3. I spy a dish of pink Starbursts (only!) sitting by the register, as well as world clocks Brant lovingly quips are on "gay time," for Palm Springs, Provincetown, and Mykonos. The gift shop has motel-exclusive merch like bathing suits for all genders, totes, tees, and robes. Aside from Trixie's tours, it's also the only place in the world where you can buy Trixie Cosmetics — known for its drag collabs and beloved on social media since its 2019 launch — in person.
Our next stop is just outside the gift shop door: the Trixie Motel pool. It's the centerpiece of the motel, with its pink-and-white deck, water sprinkled with matching floaties, and a mural of Trixie's fluttering eyelashes. Pink and white umbrellas lined with fringe wait closed until the sun reemerges. Nearby, a flock of plastic pink lawn flamingos hold court. We've only seen a little bit of the motel and already, it's clear the magic is in the details, which is only reinforced once we get to the rooms.
Each of the seven themed rooms — Queen of Hearts, Atomic Bombshell (a Jetsons-era space vibe), Malibu Barbara (a retro beach moment), Flower Power, Yeehaw Cowgirl (campy and Western), Flamingo, and the mod Oh Honeymoon Suite — is a uniquely Trixie experience, thanks to custom murals, wallpaper, tile, furniture, stained glass, and even flooring, I am delighted to discover.
In the Flamingo suite, for example, there's a pastel green-and-pink floor dotted with white; a hand painted mural of flamingos; Dazey's custom flamingo wallpaper, a design she's also printed onto drapes, trays and coasters; a matching green air conditioner; a matching green tub; a matching pink vanity table; retro pink kitchen appliances… the list goes on. Not to mention the complimentary Malin+Goetz toiletries, an added perk for any beauty lover.
At every turn, I gasp with joy at the colorful floors, the pink vanity tables meant for queens of all kinds, the pink umbrellas, and the bright velvet headboards. Every inch of the room, from the fluffy white feather chandelier to the pink fringe lamp shade screams one-of-a-kind. It is 1000% intentional.
"I mean, this is probably the only motel where you actually think about who owns it, right?" Trixie says. "It takes you a second to process what you're seeing [with the motel's visuals]. I don't ever experience that anywhere except maybe at a drag show [or] Disney."
Trixie and company have also thought through details to encourage guests to mix and mingle. For example, none of the rooms have screens.
"Listen, if you end up in Palm Springs at a drag queen motel, you probably are cut from the same cloth as the person in the room next to you," Trixie says. "It's a place where you might want to say hi to your neighbor, because there's a chance that person is going to become good friends with you."
If you want a break from socializing, there are record players in the room that double as Bluetooth speakers, and you can check out records from the gift shop to play on them, including Trixie's own recent pressing, The Blonde & Pink Albums.
The motel's attention to detail, both visually and functionally, has appealed to guests to the point where the motel is booked for weekends multiple months in advance – though they do have more midweek availability if you're interested, Drew says. Depending on the day, season, and room size, rates range from $400-850.
While the Trixie Motel is still new, the building was originally constructed in 1952, and has a long history of popularity. From 2000 to 2020, it served Palm Springs as Ruby Montana's Coral Sands Inn. According to Brant, Ruby Montana's also had queer roots — during its time, it served as a haven for queer women, many of whom visited from the Pacific Northwest. It has always been pink, but it's a little more pink now, Brant laughs.
The motel continues to be an actively inclusive space, hosting events for not just Pride, but also local transgender meetup groups, queer book launches, and more. In a time when drag faces ignorance and suppression across the country, it's important — to Trixie and in general — that the Trixie Motel can exist and act as a safe haven. She hopes people can come stay at the motel and have a relaxing, cathartic experience.
By the time my friend and I depart the motel, we're already planning our return to Palm Springs midweek to guarantee ourselves some Trixie time. One aspect of what makes the space so special are the details, but the other is how the motel has a perfect understanding of what it is, who it's for, and how the motel exists as a part of the Palm Springs landscape.
Indeed, like Trixie herself, the Trixie Motel is a perfect blend of modernity and nostalgia, things I also love. It's also a place that has the comforts of home — a big fluffy bed, places to sit and relax, mugs and coffeemakers — while being considerably more glamorous. It strikes that rare balance of being special, unpretentious, and fabulous at the same time. At the Trixie Motel, it feels like it's possible to be the starlet of your own 1960s pop rom-com hanging out by the pool, paparazzi very much excluded.
Where many hotels need to develop an identity, Trixie says this wasn't an issue at the Trixie Motel. Quite simply, it's her. People come for that exact reason. "We've never had conversations around standardizing anything or making sure every single person likes it," Trixie says. "We know that we are for a type of person, and that type of person is really proud to come stay with us."