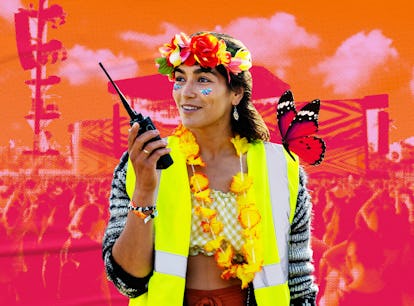 How 5 People Volunteered At Music Festivals To Get In For Free
Concert-goers share their experiences working at Coachella, Lollapalooza, and Stagecoach.
Lindsay Hattrick/Elite Daily; Shutterstock; Getty Images
Going to a music festival like Coachella or Lollapalooza is a bucket list experience — but planning a once-in-a-lifetime weekend can cost thousands of dollars when you factor in tickets, transportation, and a hotel. For budget-conscious fans looking to save money, attending music festivals for free through volunteering can be somewhat of a golden ticket and a chance to finally check off seeing their fave artist like Lady Gaga, Billie Eilish, and Dua Lipa in person. All they need to do is sell lemonade or man a lost and found booth. In these as-told-tos, five volunteers share their experience working at festivals like Coachella, Lollapalooza, and Gov Ball. Between the hours, accommodations, and physical labor, these festival-goers share whether it was better to save or splurge in the end.
These interviews have been edited and condensed for clarity.
I Woke Up To Lady Gaga Singing
I've always wanted to go to Coachella, but could never afford it. After moving to San Diego in 2017, I decided I would try to go for the first time. I heard there were options to go for free if I volunteered to work, so I went on Craigslist to look for opportunities that included tickets. That's when I found Just Squeezed Juice, Inc.
All I had to do was submit an application online. Once I was chosen, I submitted a worker agreement as well as a $250 deposit that I got back after the weekend. I was smart enough to do some research before sending them any money.
At Coachella, we stayed in our own little tents. As a volunteer, I got to stay in a different camping area from the general admission ground, so it was less crowded. Other perks included parking my car for free, having security at the gates, and free shower trailers, which were really nice.
I worked at the Coachella lemonade stand booths all around the festival for six hours a day, which seemed like the best volunteer opportunity. I didn't have to work with food, which meant I didn't have to wear a hairnet. Once we got to our stand, they had shirts for us, and we would make a bunch of cups that were ready to go when people started coming into the festival. All I had to do was slice lemons in half and use a manual press that dumped the lemon juice into the cups, which had sugar water in them. After my shift was over, I basically got free range of Coachella.
Volunteering also led to some one-of-a-kind opportunities I couldn't get from going with a regular ticket. During the early morning shift, I would wake up before the park opened, which meant I could see the performers practicing and doing sound checks. I saw Bon Iver practicing, and I woke up and heard Lady Gaga preparing, but I didn't get up fast enough to see her sound check.
The xx was my favorite performance that I got to see after my work shift, and Capital Cities really stood out to me. I didn't take advantage of the after-hours silent disco or anything, though. I was just too tired and went to bed after work.
Looking back, I probably ended up saving about $600 with the free $400 tickets to Coachella, plus the free camping — and they gave us food vouchers. I also made a couple hundred dollars from tips. The only thing I did pay for was the gas going there and back, which I split with the person I carpooled with. I think volunteering is worth it as long as you look up the companies online to make sure they're legit. —Hannah Turner, 31
I Dealt With Stingy Managers In The Hot Desert
I volunteered in 2016 when I was a college student because I wanted to go to Coachella, but didn't want to spend lots of money on tickets and accommodations. A friend of mine had a connection with a volunteering company and they were looking for people to help, so I decided to sign up.
We did staff camping for Coachella, but it wasn't ideal. The campground was a no-frills parking lot, and while it wasn't dirty, it was definitely hot. The worst part about camping was waking up early in the morning from the heat without any way to escape it. I would much rather be comfortable and get decent rest (and AC) in a hotel.
Once we were at the festival, we were assigned to half-day shifts — we would work half the day selling water bottles and iced lemonades and get the other half off. Sometimes, I was able to enjoy the festival after my shift, but having the evening shift was miserable, as we missed all the bigger performances and were required to be at our stall long after all the festival-goers were gone. This was Coachella weekend 2, so it was freezing and dusty at night.
Having a shift also meant that we were there all day, which is exhausting even without the weather. While most volunteer opportunities require roughly the same amount of time per shift, the company I volunteered with made my experience even worse.
We were told if we didn't show up to a shift, they had the ability to deactivate our wristband (who knows if this is true?). My manager wasn't great, and they took a percentage of tips at the end of every shift (which they basically tell you to ask customers for). At the end of my shift, my manager took out $8 saying he had to "pay for the lemonade" I had while working in the hot sun, which felt exploitive. Granted, we were getting into the festival for free, but we were also in the sun, on our feet all day, working for free, making them money and they couldn't even spare a lemonade. I'm still bitter.
I did end up saving money, which included the price of Coachella tickets (~$400 at the time) and the price of a hotel (~$500-$1000). Overall, I still wouldn't do it again. I would rather pay and enjoy the experience freely — but this may also be because of the company I volunteered with. —Claudia Baettig, 26
I Got To See Billie Eilish With Friends Who Feel Like Family
I was a performing artist when I moved to New York in 2016, and I wasn't making much money. Shows are incredibly expensive, so I started looking into volunteer opportunities and came across HeadCount. I was drawn to the experience of enjoying live music and community while making an impact, and decided to work with them.
It's such a dream come true to be able to go to my favorite events and actually make a difference by registering voters, having meaningful conversations with fans, and connecting with other volunteers. Through HeadCount, I've volunteered at festivals like Gov Ball and Outside Lands. Gov Ball is easily one of my favorite fests of the year now — especially after volunteering. It puts the event in such a new light when you're not just there to enjoy the music.
The team in New York is so incredible and everyone works so hard to meet our goals. One of my favorite memories was in 2021 when I got to see Billie Eilish perform the headlining set at Gov Ball. I remember being alongside some of our volunteers, belting every song, and feeling thankful for the opportunity to be at the festival, making an impact, and then celebrating afterward by seeing one of our favorite artists together!
A typical volunteer day starts by waking up in the morning around 8 a.m. or 9 a.m., making breakfast, and choosing a cute and comfy outfit — comfy shoes are an absolute must. Volunteers arrive an hour and a half before doors open to set up, get trained on voter registration, and talk through the schedule and goals for the day. Then, we all canvass the lines and fans as they enter the fest by offering free "vote" pins to anyone who checks their registration or takes action with us. We normally work four to five hours a day at Gov Ball.
The HeadCount booth is home base all day and it helps to have a break from the sun. Every volunteer also picks out their fave artists for the day so they don't miss the music they came to see. Before you know it, the sun is going down and it's time to pack it up, go catch the headlining sets as a reward for all the hard work, and get ready to do it all over again the next day! By the end of the weekend, all of the volunteers truly feel like family and so many long-lasting connections are made.
This year, I'll be saving over $329 by volunteering for Gov Ball since that's the price of a three-day ticket. I think volunteering at music festivals is 150% worth it, especially if you're volunteering at a camping fest where you only need to provide your own camping equipment, transportation, and food. Every time I volunteer, I save hundreds of dollars. —Morgan Howard, 33
I Had 2 Weekends Of Fun At Both Coachella & Stagecoach
Back in 2010 when I was a broke grad student, I volunteered at Stagecoach for a free Coachella ticket. I also thought it would be a cool experience since the program gave options to work backstage.
Finding volunteer work was a lengthy process that felt similar to applying for a job because they needed to know if you had any skills they could use. I eventually found a program that offered two options: You could work during Coachella, or you could work Stagecoach to get Coachella tickets. I did the Stagecoach option, because I did not want to miss any of Coachella.
Volunteering at Stagecoach was pretty laid-back. I had to work two shifts — one Saturday and one Sunday. My first shift was scanning tickets — they had tickets back then — and at the second shift, I helped VIP ticket holders find their seats. Each shift was anywhere from six to 10 hours, but you could get away with a lot, like just enjoying the festival and not really working. There wasn't any supervision, because the people in charge stayed in the volunteer check-in tent and they assumed we'd do our jobs.
I don't really like country music, so I wasn't interested in seeing the festival. After my shift, my friend and I got a hotel room and went back to rest and get out of the sun. The program offered free camping spots, but we had camped for Coachella the weekend before and were still tired from that, so we opted to spring for a room with AC. It was great being there with my best friend. We got to enjoy back-to-back weekends of fun at Coachella and then volunteering at Stagecoach.
Since we worked at Stagecoach, the whole Coachella experience was free. With $269 passes and a complimentary camping spot that was $55, we saved about $324, not including taxes and fees. Since we also technically got Stagecoach tickets, we saved an additional $99. Our total savings were about $423. We did have to spend money on transportation to Coachella, but it was still a great experience. I don't regret doing it at all. I would possibly do it again, but I'm not sure — geriatric millennial here. —Kitzia Cesario, 36
I Got To See Dua Lipa Before She Was Big
I decided to volunteer between 2016 to 2019 when I was a college student. I love music, but I wanted to see if I could do it for free because going to a festival was a lot of money. I did research online to find a volunteer opportunity, but I also talked to my friends about it. We were all kind of in it together, and found a company called Love Hope Strength. It's a foundation for cancer, specifically for bone marrow cancer, and they were promoting volunteering for Lollapalooza Festival. Signing up was pretty much like filling out an application online.
Once I was chosen, I learned about my volunteer responsibilities. I'd work the box office booth, the greeter booth, and the lost and found booth. There was also a water station position where I would help people fill up their water bottles and water bags. You could choose to have a four-hour morning shift, afternoon shift, or night shift. Typically, I'd try to get a morning schedule so that I could enjoy the festival in the afternoon and at night. One of the years that I volunteered, I saw Dua Lipa when she wasn't super big. A couple of years later, she's headlining festivals instead of being at the 12 p.m. stage.
On festival days, I woke up around 6 a.m. because we had to be there around 7:30 a.m. After getting there, we'd go to the headquarters where the box office was. That's when they would tell us where we were going to be placed, and whether it was inside or outside the festival. I thought the most interesting station was the lost and found booth because I didn't realize how many people would lose their phones.
By volunteering, I was also able to save about $1,500 for four days of Lollapalooza over three years. Since I was a college student in Chicago and living there, I didn't have to pay for transportation or hotel. Love Hope Strength also provided snacks. Overall, I think volunteering is 100% worth it. It just brings in a different perspective as someone who works at a festival versus being a festival goer. I got the best of both worlds. I made some friends volunteering as well, and we still go to festivals together. —Erika Rivera, 30