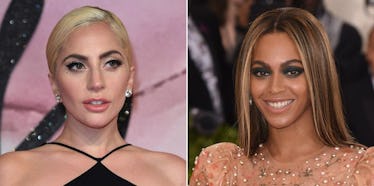 Rihanna Fans Are Pissed About Lady Gaga Replacing Beyoncé At Coachella
REX/ Shutterstock
It's been about a week since Beyoncé shattered the hearts of Coachella-going fans by canceling her performance in the desert at the highly-anticipated music festival this April.
Apparently, Bey's doctors didn't want her overexerting herself with the show during her pregnancy.
We get it, though -- running around the stage while you're about to pop during a high-energy performance probably isn't the greatest idea, and we're in full support of a healthy Bey-baby.
After coming to terms with the fact that Beyoncé was no longer going to be headlining Coachella, fans asked themselves one extremely crucial question:
WHO'S GOING TO REPLACE BEYONCÉ?
Well, you can stop wondering now because the wait is finally over. Coachella announced its pick to fill Beyoncé's shoes at Coachella 2017, and it chose...
Drumroll, please!
LADY GAGA.
That's right: Lady Gaga will be replacing Beyoncé at Coachella this year, making her the first woman headliner at the festival since 2007, Billboard reports.
After crushing a jaw-dropping performance at this year's Superbowl halftime show, we're pretty stoked to see what the "Joanne" singer is going to bring to the desert.
Apparently, she's stoked about the upcoming performance, too.
We're happy for you, Gaga!
As stoked as the singer is to "party in the desert," a lot of fans aren't too ecstatic about Coachella's choice and were hoping for someone else.
They wanted Rihanna to headline instead.
In fact, Rihanna fans used Twitter to voice their anger and disappointment about Rihanna not being the chosen artist to replace Beyoncé at the show.
Yeah, they sound pretty pissed.
"AT LEAST GET RIHANNA DAMN"
"WHAT THE ACTUAL FUCK #disappointed"
"The only person fit to replace Beyoncé would have been Rihanna."
"Rihanna is such an obvious choice."
Hopefully, Rihanna will get her chance to headline Coachella in the future.
But this year belongs to Lady Gaga. Beyoncé will be proud.
Citations: Lady Gaga Will Replace Beyoncé as Coachella's Saturday Headliner (Cosmopolitan)