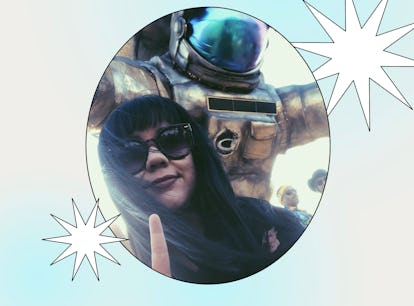 Hear Me Out: Coachella Weekend 2 Is So Much Better Than Weekend 1
And this year was no different.
Amanda Chavez/Elite Daily
Once fringe, glitter, and cowgirl boots start filling up your Instagram feed, you know festival season has arrived. The most popular event of the SZN is hands down Coachella. Each year, the Coachella Valley Music and Arts Festival takes over the desert in SoCal for two back-to-back weekends — but which is actually the best?
The first weekend tends to sell out faster and it feels like there's more hype around going to Weekend 1 (thanks to Instagram influencers), but longtime Coachella fans know the true magic of waiting a week. Recently, Amanda Chavez — who's been going to Coachella for almost a decade — went viral on TikTok for sharing why Coachella Weekend 2 is always better than Weekend 1. In this as-told-to below, the 35-year-old graphic designer in Los Angeles shares precisely why she feels Coachella Weekend 2 is the best time to go.
I've been going to Coachella since 2010 — this was my ninth year going. Over the years, I've attended the first weekend in 2016 and 2019, and the rest of the time I've gone on Weekend 2. I've personally preferred going the second weekend because it's always felt less chaotic and more for the music lovers. And this year's Weekend 2 — with exciting surprise guests, fewer influencers around, and issues resolved from the first weekend — was no different.
The first year I went to Coachella was the pre-influencer era, so we didn't have phones that could record videos for Snapchat or Insta stories. We brought our little digital cameras to the festival, and we also didn't care about what we wore. We just dressed for the desert heat!
Of course, there's nothing wrong with taking the opportunity for photo ops. There are beautiful installations and you can't beat the desert scenery as your backdrop, but it definitely makes it frustrating when those of us who want to see the performances can't purchase a ticket because people would rather go to take photos.
It doesn't surprise me at all that Loren Gray shared that influencers don't even go into the festival. The desert is the happening place to be for Coachella. There are also a lot of fun parties around the Palm Springs area, but if influencers are taking tickets away from music lovers, that can be upsetting. One of the perks of Coachella is that it usually reunites artists who haven't performed in ages, like Refused, The Postal Service, and most recently Blink-182. I would have loved to see Destiny's Child reunite with Beyoncé, but that was the year I didn't go.
Another downside to having influencers at the festival is they camp out just for the headliners like Bad Bunny or BLACKPINK. They don't care about the other artists on the stage, so the crowds for the remainder of the day are pretty mellow. Weekend 2's vibes are better because it seems to be when more of the locals and people who love music go to the festival to enjoy the shows.
The first weekend can also be stressful since there are more issues, like parking, that haven't been addressed yet. I didn't have any problems getting to and from the festival all three days I went this year, but I heard it was terrible on Weekend 1. The festival is always packed, but in some cases, crowd control is slightly better on the second weekend as well. By the time Weekend 2 rolls around, it seems like most issues get resolved.
A perk for Weekend 1, though, is that attendees always get the fresh green grass on the field. The grass is definitely dead and flat by Weekend 2. It's super dusty! Also, people who go on Weekend 1 are the first to witness any surprises that happen, but there is usually some sort of surprise at both. Actually this year, the two biggest surprises happened during the second weekend when Zendaya came out for Labrinth and Bad Bunny performed with Gorillaz — so Weekend 2 brought out arguably better artists.
Weekend 2 people also have the benefit of watching Weekend 1's YouTube livestream ahead of time. That way, if there are two artists playing at the same time, you can see who might be worth seeing over the other. That's how I planned out my Coachella weekend ahead of time.
Some highlights from this year included hearing The White Lotus theme song during Sofi Tukker and being front row for Boygenius. Each year, it depends on the lineup whether I plan on going again. It's always a pricey weekend and the heat definitely takes a toll on the body, but we'll see when the time comes around if I'll be at Weekend 2 of Coachella 2024.
This interview has been edited and condensed for clarity.