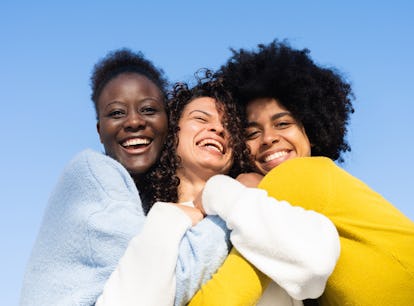 The Luckiest Zodiac Signs In February 2023 Will Be Prioritizing Originality
February definitely has some favorites.
Alberto Case/Moment/Getty Images
I hope you're ready to revolt, because Aquarius season is officially in motion. As one of the most misunderstood signs of the zodiac, it can be difficult to sum up Aquarius without contradicting myself, but that's exactly what makes this sign so unique. I mean, the fact that Valentine's Day, a holiday all about loudly expressing your love and adoration, takes place in the middle of this season is a paradox in itself. While Aquarius is a very social, community-focused sign, this season also prioritizes isolation, freedom, and liberation from rigid structures or systems at the same time — leading many Aquarians to feel misunderstood by their peers. Wanting to feel included while still prioritizing your independence is no easy task. Luckily, there are four zodiac signs in particular that will navigate this polarity with ease in February.
As a Saturn-ruled air sign, Aquarius is, quite literally, a sign all about space. Without a healthy amount of distance, you're unable to develop your own unique opinions and ideas, which is usually why Aquarius individuals tend to be very comfortable being by themselves. At the same time, the validation that comes from feeling seen for exactly who you are, quirks and all, is something that each of us craves this time of year, particularly Gemini, Leo, Libra, and Aquarius. While the reasons vary, these signs all have Aquarius in the more favorable houses in their birth charts, making this season the luckiest time for them.
If you're a Gemini, Leo, Libra, or Aquarius, no need to cross your fingers. Here's what you can expect from February's astrology:
Gemini: You'll Be Invited To Expand Your Outlooks
As the curious, communicative sign of the zodiac, you're always looking to understand and embrace new ideas and perspectives. As the sun continues through your ninth house this month, you'll be eager to consider new opinions and concepts: You've always been known for your unpopular outlooks, and now is the perfect time to showcase them. Who knows? You may find yourself interacting with like-minded individuals this month, who understand the parts of you that others don't. Don't be afraid to ruffle a few feathers this month, Gemini. As the messenger of the zodiac, that's kind of your thing.
Leo: You're Embracing A Unique Perspective In Relationships
As Aquarius season continues, your romantic relationships will a major priority this month, Leo. As Aquarius is your polar opposite sign, you probably have a love-hate relationship to this time of year, but it's bound to bring some refreshing themes to the forefront of your connections. As someone who appreciates acknowledgement and validation, you may find that you prefer partners who aren't bothered by you taking up space — and this season is zooming in on the people that make you feel like you can be your authentic self, unapologetically. Surround yourself with people who aren't intimidated by your light. Trust me, these are the kinds of relationships worth pursuing.
Libra: You're Finding Unconventional Ways To Enjoy Yourself
This month, the sun will continue through your fifth house of passions and creative pursuits, inviting you to try different things when it comes to how you enjoy yourself. As a Venusian, it's important that you prioritize your pleasure on a daily basis, and this season is encouraging you to step out of your comfort zone. What you do for fun may not be something people always understand, but that shouldn't stop you from doing what you love. Even when it comes to dating, you may have an unorthodox approach, and that's OK. Embrace your unique way of approaching things, Libra. Fitting in is overrated.
Aquarius: It's Time To Learn How To Be In The Spotlight
As your season continues, the sun will make its way through your first house of personal identity and self-expression, bringing attention and awareness to how you honor your authenticity. While you're not usually a fan of excess attention, this tends to be the time of year that brings recognition your way. The good thing is, this means that you can promote the things you believe in. It's the perfect time to showcase what really matters to you, Aquarius, which typically has less to do with you and more to do with your concepts and beliefs. Now is the time to speak your mind and own what makes you different, no matter how weird. Trust me, that's exactly why people love you.