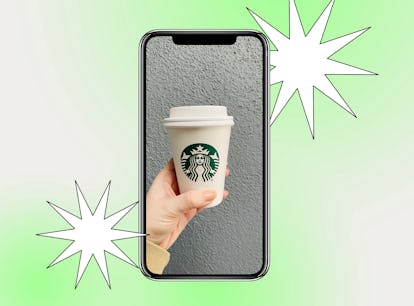 I Tried Kim K's Fave Starbucks Drink & It's A Tiny Pick-Me-Up
This pint-sized sip still packs plenty of energy and sweetness.
Rachel Chapman/Elite Daily
If you've ever seen pics of Kim Kardashian's all-white home, you know she likes to keep it minimalistic. Even the designs of her SKKN By Kim products prove she's a simple kind of gal, so it makes sense Kim K's favorite Starbucks drink is also kind of basic. In 2017, Kardashian revealed on Ellen's Show Me More Show that when she does drink coffee (she's more of a charcoal latte stan), a few sips of "the smallest size, white chocolate mocha with whipped cream" wakes her up.
The reality star re-confirmed her favorite Starbucks order again in 2020 on Twitter, telling fans, "They have to be the smallest size or they don't taste the same to me." The smallest size Starbucks offers is not a tall, but a short, which is 8 ounces versus the tall's 12 ounces. It's possible Kardashian is on to something here.
The short white chocolate mocha comes with one shot of espresso and two pumps of white chocolate mocha sauce. Despite being four ounces larger, the tall version also has one shot of espresso, and comes with three pumps of white chocolate mocha sauce. Since the ratio of espresso to drink size and pumps of white chocolate mocha sauce differ between the two, there really is a difference in taste. If you're needing a strong pick-me-up in the morning, you'll definitely want to try Kardashian's Starbucks order.
How To Order Kim Kardashian's Starbucks Drink
This is probably one of the easiest celebrity Starbucks orders you'll ever have to place. For the white chocolate mocha, all you need to do is order a short white chocolate mocha on the app or in person. The default is to already add in the whipped cream, but if your barista asks if you want it, just make sure you say yes.
Kim Kardashian's Starbucks Order Review
This was my first time ordering a short drink, because I believe you get a better deal the bigger the drink you get. For instance, the short white chocolate mocha was $4.85, the tall is $4.95, the grande is $5.45, and the venti is $5.95. Each size is four ounces more than the previous one, so you're getting four ounces more for just 10 cents more when ordering a tall.
Of course, you get the same number of shots between the short and tall, so you're really only paying 10 cents more for milk and white chocolate mocha sauce. It's still more drink, though. I assume when Kardashian is ordering her Starbucks drink, she's not thinking too much about which drink is the most cost-efficient. Money is no issue for the person who sells a tissue box for $89. Instead, she's thinking about taste, which really isn't anything to write home about either.
I've never had a regular white chocolate mocha, but it tastes like a sweeter version of a Starbucks latte. Ordering a short does cut down on the sweetness a bit, and allows you to really taste the espresso. This may be what she was talking about when she said the other sizes "don't taste the same." This more espresso-forward version of the white chocolate mocha is great for anyone looking for a not-too-sweet caffeine boost in the middle of the day.