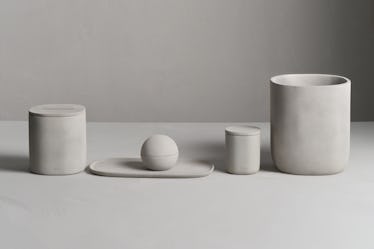 The SKKN By Kim Home Accessories Collection Is For A Kardashian Budget
You better start saving now for this collection that drops Oct. 6.
Courtesy of SKKN By Kim
SKKN By Kim isn't just for skincare anymore. Kim Kardashian's company is adding a home accessories line this October with home decor products in that signature Kim K neutral. As cute and cop-worthy as the SKKN By Kim Home Accessories collection may be, it's for a very Kardashian-like budget.
While each item in the collection is less than $130, it's still not super affordable for us mere mortals. For instance, there is a chic tissue box that will elevate your current tissue situation but for almost $90. At that rate, you'd have to budget getting yourself the one-ply tissues without the lotion for a while just to make up for your bougie purchase.
While the SKKN By Kim Home Accessories collection is pricey, there's no denying every item will get your home one step closer to looking like a Kardashian's. Fans have all seen how Insta-worthy and clean the Kardashian homes are from watching The Kardashians on Hulu, and one way they are able to have such picture-perfect homes is because they invest in their home organization. These SKKN By Kim accessories for your home are available Oct. 6, and they will help to organize not just your tissues but items in your bathroom and bedroom as well.
Just know that if you see something from SKKN By Kim that your home needs, it's going to cost you.
We may receive a portion of sales if you purchase a product through a link in this article.