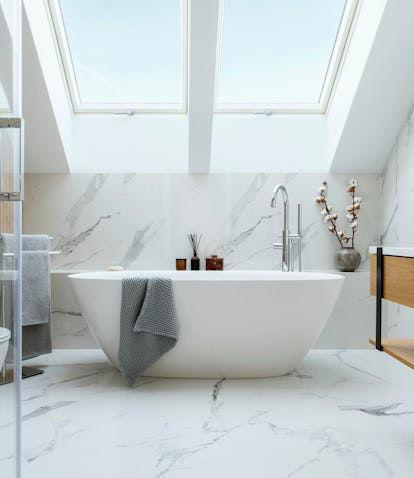 20 Products That'll Make Your Bathroom Feel Like An Oasis For Under $55
Treat yourself to essentials even the Kardashians love.
Shutterstock
The bathroom is an often neglected area of the house when it comes to home decor. Even though it's the place where you may pamper yourself with a thorough skincare routine or nighttime soak with sweet smelling bath bombs, you haven't really spruced up the space like you would your bedroom or living room. To really make your home feel like a home, it's time to invest in some products that'll make your bathroom feel like an oasis.
Your bathroom deserves a little makeover as well, and you don't even need a big budget to make it happen. There are plenty of inexpensive bathroom products that will have your room feeling like a spa for less than it would cost to actually go to the spa for the day. Sometimes, all it takes to give your space a little upgrade is to invest in some home organization. Let's face it, with your entire skincare routine, makeup, and other bathroom essentials, your counter can get messy AF if you don't have a place to put everything. Something like shelves or cute jars to keep your toiletries organized can go a long way. In fact, a lot of these products that'll make your bathroom look expensive are just smart organization hacks as well. Go ahead and add to cart what you need to truly treat yourself to the bathroom of your dreams.
We may receive a portion of sales if you purchase a product through a link in this article.