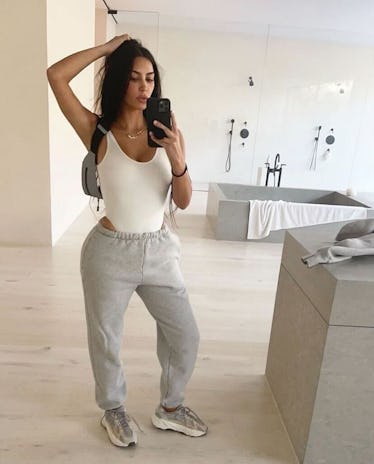 Kim Kardashian's Charcoal Latte Feels Very Kourtney, TBH
This goth, silver sip is perfect for a morning detox.
Charcoal-based sips might be a buzzy new thing for many people, but the Kardashians have sworn by the ingredient's supposed detox benefits for years. Kourtney launched a gothic black Erewhon detox smoothie in October, and it looks like Kim Kardashian is also getting back on the charcoal wave. The Skims founder posted a photo of her morning mug to her Instagram Story on Jan. 24, and her clear cup was full to the brim with a steel gray charcoal tea — which just happens to match her signature IG feed palette of muted neutrals and stone tones. Kim Kardashian's charcoal latte recipe is another super chic way to start your mornings while also dating advantage of superfood's detox benefits.
Kim K has been sipping on charcoal drinks for years, dating back to 2016 when she regularly stocked her fridge with an activated charcoal lemonade. Adding activated charcoal to your morning mug could be a replacement for go-to coffee, and shortly after Kardashian's IG story post, Poosh shared Kim Kardashian's charcoal latte recipe as a way to take the silver sip up a notch with sweet and creamy coconut milk, dates, and vanilla extract. It doesn't call for any fancy barista equipment to create the Instagram-worthy foamy gray effec, plus the super quick recipe uses common ingredients, so you'll just need to get your hands on activated charcoal before you whip it up.
How To Make Kim Kardashian's Charcoal Latte Recipe At Home
You'll need:
1 cup of canned coconut milk
1/2 teaspoon activated charcoal powder
1 teaspoon vanilla extract
2 pitted dates
Dash of cinnamon and sea salt to taste (optional)
On the stove, heat up your coconut milk in a saucepan until it's gently simmering but not boiling.
Once it's warmed up, put it in a blender with the charcoal powder, vanilla extract, and pitted dates, and blend until it's foamy.
Add the mixture to a blender or use a milk frother and blend for extra foam.
Transfer to a mug, add your choice of additional toppings (Poosh recommends cinnamon and sea salt), then enjoy.
Charcoal's been a trendy wellness ingredient for years, from use in teeth whitening to clarifying skincare, but adding a food-grade version of it to your latte is an easy way to start your day with a detox. If you've never worked with activated charcoal as an at-home barista, it's not too complicated. You can buy it in flavorless powder form, like these food-grade multitasking charcoal powders from Schizandu or Erbology. It's fun to keep on hand because it turns whatever it's mixed with into a pale black color.
Activated charcoal is just clean charcoal that has been treated with oxygen to make it more absorbent to toxins. Your gut doesn't naturally digest it, so as it travels through your body, its negative electric charge is said to latch on to positively charged molecules like toxins and gas to flush them out. While there's no hard evidence to support its detox benefits, a serving of activated charcoal may work to reduce cholesterol levels, aid in kidney function, relieve bloating, filter out contaminants from tap water, treat food poisoning, and even help boost hydration for potential hangover prevention (why not add a dose in a cocktail?).
Since the stark black powder has no flavor, you can even mix activated charcoal into a coffee-based late, a matcha latte, or a protein shake. It's also an easy add-on to nutritious smoothies or even cooked in your favorite recipe for protein pancakes (if you don't mind eating a gray short stack). But, before you dive in, make sure to post a breakfast snap like Kim, because a latte this cool was made for the 'Gram.