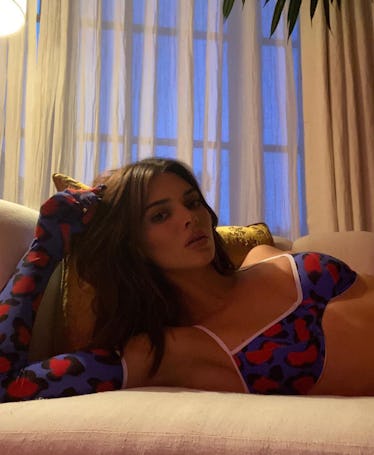 Kendall Jenner's Master Bedroom Is A Trendy, Serene Sanctuary
Grab her decor inspo for chill vibes.
We may receive a portion of sales if you purchase a product through a link in this article.
Kendall Jenner is all about wellness these days. Whether she's tending to her mental health through meditation, experimenting with futuristic wellness gadgets, or sinking into her gold bathtub for some "me time," her LA mansion is designed to be the ultimate peaceful retreat. Her house is surrounded by lush mountains, with large windows that fill the halls with sunshine, so it's unsurprising the the interiors reflect the calm environment with natural tones and textures. She also incorporates art that glows with pink light throughout her home for cozy mood lighting when she unwinds at night. Jenner welcomed Poosh inside to photograph her master bedroom and we found tons of Kendall Jenner bedroom decor dupes to match her home's chill vibes.
In a home tour with Architectural Digest back in 2020, Jenner introduced her bedroom, saying, "I usually come in here and meditate, chill out, zone out." Looking at the most recent photos from Poosh, the design of her master bedroom has pretty much stayed the same. Upon entry, there's a relaxed sitting room with plush seating and decor on one side of her double-sided fireplace, which separates the lounging area from her bed. The overall feel ties in shades of white, beige, and wood, and she displays all her favorite books, singing bowls, and crystals throughout the space so they're at the ready when she needs a moment to decompress. Jenner's room also features trending 2023 decor trends like rounded furniture and vintage touches, creating a space that has character while still feeling clean and minimal. If you want to replicate some of the pieces for yourself, check out these Kendall Jenner-inspired home decor finds that'll transform your bedroom into a serene sanctuary.