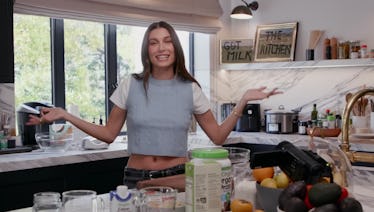 Hailey Bieber's Kitchen Is Full Of Decor Inspo For Home Chefs
Shop these pieces inspired by Hailey's signature chic aesthetic.
We may receive a portion of sales if you purchase a product through a link in this article.
Hailey Bieber is known for her easy home recipes that go viral on TikTok, like the pizza toast or Strawberry Glaze Smoothie. On Dec. 14, she launched a "What's In My Kitchen?" foodie series on her YouTube channel, and of course, her kitchen looks straight out of a Pinterest board. Her signature chic, clean aesthetic transfers to her cooking space with white marble accents and shiny brass touches. Cop these decor dupes inspired by Hailey Bieber's kitchen, from the most eye-catching design elements in her kitchen.
Her first installment to the series, called "making breakfast two ways," shows the model-influencer in a kitchen that looks surprisingly normal. She promises in the video that, "Yes, we actually are in my real kitchen in my real house, this is not a set." Besides the luxe design elements, the Bieber kitchen still has clutter, like stacks of cookbooks, sitting appliances, and ingredients arranged along the countertops. You can tell it's a functional kitchen on top of being a stylish space where Mrs. Biebs experiments with recipes and whips up her decadent protein pancakes on chill mornings. Here are some decor pieces inspired by Hailey Bieber's kitchen to add to your cooking space.