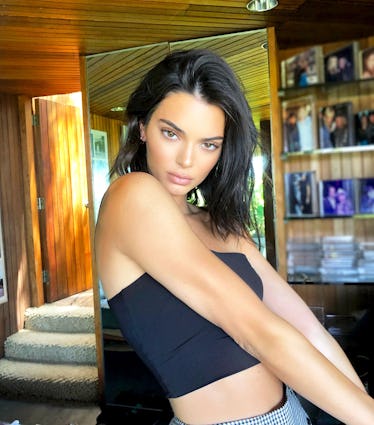 Kendall Jenner's Mental Health Tips Are "Higher Goddess" Energy
She even has her own well-being room.
Instagram/Kendall Jenner
Kendall Jenner is famously one of the more private members of the Kar-Jenner family, but she's breaking her silence on how she's embracing a new wellness chapter. In The Kardashians on Hulu and in a recent podcast interview, the model — who's been open about her struggles with social anxiety and depression in the past — shared strategies she's learned to reduce anxiety in her day-to-day life and protect her energy. Kendall Jenner's mental health tips include everything from techniques to support work-life balance to a TikTok trend that's all about self-love — as well as details of a "well-being room" she has in her home.
Through validating her experiences, finding ways to de-escalate moments of anxiety, setting boundaries, and engaging with her inner child, Jenner revealed she is on a mission to level-up her wellness on all fronts and tap into her "higher goddess."
As a guest on the On Purpose With Jay Shetty podcast, the reality star said that her self-work has also improved her relationships with other people in her life. "Me tuning into my 'higher goddess' also entails me being a great version of myself for other people to then experience and [learn] my tips and tools," she said. Even if you don't have access to your very own "well-being room" where Jenner experiments with tech wellness gadgets, like an in-home hyperbaric oxygen chamber and a red light therapy bed, there are still some wellness tips from Jenner that you can easily cop for a self-love routine revamp.
Find out how Kendall Jenner embraces her "higher goddess" with these mental health tips from her interview with Jay Shetty.