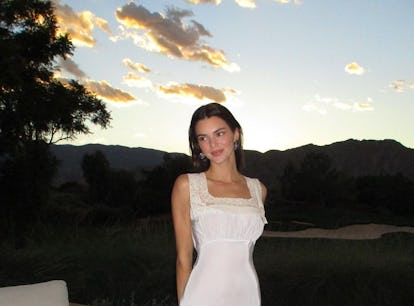 Here's Kendall Jenner's 11-Minute Ab Workout, According To TikTok
This 13-step routine is an easy way to start off your day.
Keeping up with the Kardashians may mean keeping up with their workout routines as well. You often see both the Kardashians and Jenners exercising in their home gyms on The Kardashians, which may be all the motivation you need to establish an at-home routine of your own. Well, TikTok is the go-to place to find it. On the FYP, you can find all the moves for Kim Kardashian's ab workout and Khloe Kardashian's HIIT routine. Some TikTokers have even been trying out Kendall Jenner's 11-minute ab workout, and the results are impressive AF.
After just one week, TikToker @darcieratcliffextra was super excited to show her followers that doing Kendall Jenner's ab workout each day paid off. Even though there are 13 steps in the full routine, it only takes about 11 minutes to complete, so you really can do it every day of the week. Just find a corner in your bedroom, dorm, or living room where you can place your yoga mat or a towel on the floor. This routine is simple enough that it can be done in tight spaces or while you're traveling. With the holidays around the corner, you don't need to sacrifice a good burn when you travel back home or to the ski lodge with your besties. Just try this Kendall Jenner ab workout each morning before your cup of coffee, and you may just want to show off your progress on TikTok or Instagram too.