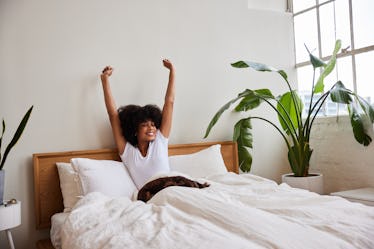 10 Simple Ways To Make Your Small Room Look Bigger Using Etsy Products Under $25
Goodboy Picture Company/E+/Getty Images
Growing up, you may have dreamed of having a massive bedroom like Cher's in Clueless or Arnold's in Hey Arnold! Of course, you knew those were fictional rooms, but that didn't stop you from dreaming. Even now, you're looking to give the space you have the illusion of something grandiose. Luckily, all you need to do is know how to make your small room look bigger with a few home decor items.
Don't worry about budget either. Etsy has tons of products under $25 that will give your space the makeover it needs without totally breaking the bank. You just need to declutter and open up your space, which is simple with a few storage items. You will also want to bring in some light and use the right colors to give your room that massive feeling. The spring is actually a perfect time to take on this project. After doing a bit of cleaning, your space will be ready for you to do whatever magic is necessary to make it look bigger. Head over to Etsy and browse a few of these 10 products under $25 that make your room look bigger, and add whatever fits your vibe to your cart ASAP.
We only include products that have been independently selected by Elite Daily's editorial team. However, we may receive a portion of sales if you purchase a product through a link in this article.