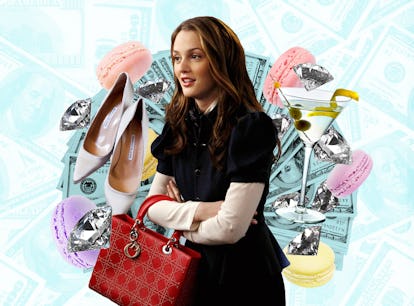 Here's How Much It Costs To Be Blair Waldorf From Gossip Girl
"Whoever said money doesn't buy happiness didn't know where to shop."
We may receive a portion of sales if you purchase a product through a link in this article.
Whether you're re-watching Gossip Girl or discovering this group of Upper East Siders for the first time, the characters' lavish lifestyles — as well as the series' constant stream of drama — are a big part of what makes the show so addicting. After seeing enough episodes of Blair Waldorf enjoying over-the-top vacations in Paris or wearing a nearly $800 silk blouse while on the town, it's easy to forget just how luxuriously these NYC teens are living (yes, even Dan Humphrey). However, when you actually break it down, living like Constance Billard's queen bee, Blair Waldorf, for a day wouldn't be cheap.
Since the show came out, fans have theorized about the wealth of each family on Gossip Girl, with the Waldorfs comfortably sitting in the middle. Some viewers believe the Waldorfs were worth a few hundred million at most — including approximately $130 million from Eleanor Waldorf's career as the head of Waldorf Designs plus $14.5 million in family money (Gossip Girl's Waldorfs are based on the real-life family responsible for the Waldorf-Astoria hotels), then about $10 million a piece from Blair's dad, Harold, and her stepfather, Cyrus, both of whom are lawyers and probably make the same as the highest-paid lawyers in New York City.
It's fun to dream what you could do with that multi-million budget, so I calculated how much the Gossip Girl Upper East Sider spends on her closet, bougie activities, and all the cabs she takes in one day to see what it really costs to actually step inside Blair's Christian Louboutin heels.
The Long-Term Expenses: Blair Waldorf Has A Pretty Cushy Life Set Up For Her
To truly live the Blair lifestyle, there are some long-term expenses that Eleanor is footing the bill for. Starting off, you need an opulent roof over your head. On Gossip Girl, Blair lives the luxe life in a Fifth Avenue penthouse apartment — 1136 Fifth Ave. to be exact — which sold for $30 million back in 2015. For a rental comparison, a similar UES penthouse apartment at 988 Fifth Ave. near the Met was listed for $80,000 a month on StreetEasy in 2021. Going off of that, it would be about $2,581 a day to live like Blair. In her home, you would also want to factor in any daily expenses as well, which includes a housekeeper.
Dorota, Blair's beloved housekeeper, lives at the Waldorf Penthouse with her. According to ZipRecruiter, a top-earning housekeeper in New York City can make up to $123,990 annually. Since Dorota loves the Waldorfs and they can obviously afford to pay well, let's assume this is at least how much she's making, which would cost about $340 a day.
Blair also attends Constance Billard, which is a fictional private school based on the Nightingale-Bamford in Manhattan. The cost of tuition at Nightingale-Bamford for the 2023 to 2024 school year is $61,655. Dividing that by how many school days there are, that's about $346 a day. You would also want to add in her uniform cost, which is about $200 per outfit.
Total: $3,467
Blair's Morning Routine Includes Macarons, Skin Care, & Her Signature Headbands
6:30-6:45 a.m.: Blair's perfect morning would begin with some sweet macarons from her favorite French pâtisserie, Ladurée. After getting her box of treats ($24 for six pieces) delivered to her, Blair would enjoy her macarons while soaking in the tub like she did in Season 4, Episode 8.
6:45-7 a.m.: Following her relaxing start, Blair would get into her morning skin care routine, which she's mentioned includes a few La Mer products. While she never shared her full routine on the show, it's safe to assume she'd use a cleanser ($95), exfoliator ($140), moisturizer ($570), and SPF ($115) from the brand.
7-7:30 a.m.: With a clean face, Blair would do her simple, quiet luxury-inspired makeup routine using a light foundation, blush, eyeliner, mascara, and lip gloss next. Gossip Girl's head makeup artist, Amy Tagliamonti, revealed her go-to products for the actors back in 2009, but most of those products are no longer available. However, some current-day dupes include Make Up For Ever Ultra HD Invisible Cover Stick Foundation ($43), Clinique Cheek Pop Blush ($29), Inglot AMC Eyeliner Gel ($13), Lancôme Définicils High Definition Waterproof Mascara ($33), and Make Up For Ever liquid lipstick ($25) if you want to recreate a Queen B GRWM routine yourself.
7:30-7:45 a.m.: Before heading off to school at Constance Billard, Blair would get dressed in her uniform and finish off the look by doing her hair. Betsy Reyes, Gossip Girl's stylist, told American Salon in 2010 that during the show, they would curl Leighton Meester's hair and use TiGi's Rockaholic Dirty Secret Dry Shampoo ($24) for texture. Since Blair can afford it, she'd likely be using the viral Dyson Airwrap Multi-Styler ($600) today. Then, she'd throw on one of her signature headbands, like a plaid Jennifer Behr Evelina Tartan Crystal-Embellished Headband ($155).
7:45-7:55 a.m.: Once she's ready for school, Blair would definitely opt for the $10 taxi from the Waldorf penthouse at 1136 Fifth Ave. to school instead of taking the bus.
Morning total: $1,876
Blair's Afternoon At School Would Save You Some Money
8-11 a.m.: During the day, especially if she's got class, Blair isn't spending a ton of money.
11-11:20 a.m.: While she typically likes to eat lunch on the steps of the Met with her minions, Blair also wouldn't pass up the chance to have a meal at one of her favorite spots in the city, Gramercy Tavern. A cab there from Constance Billard at 719 E 82nd St. to 42 E 20th St. would be about $20.
11:20 a.m.-Noon: A three-course meal for lunch is about $78 per person, plus the taxi back to school would be around $20.
3:45-6 p.m.: After school, Blair might spend some time in Central Park, either walking around with Chuck Bass or her bestie Serena. A free photoshoot like the one S and B did in Season 1, Episode 4 is the way to go with your own BFF, and it gives you more money for your night out.
Afternoon total: $118
Blair's Night Out On The Town Would Include Dinner And Drinks With Serena And Chuck
6:30-7:30 p.m.: Blair always had a different social function to attend in the evening, but one of her go-to traditions was getting dinner at one of her favorite restaurants, Butter. She'd likely change out of her uniform and into something nice, like a preppy, floral dress. Since fans know Blair is a fan of Oscar de la Renta after spotting her wear the infamous red dress in Season 4, this Oscar de la Renta floral midi dress ($4,290) seems very fitting for a night out in the city. She'd also need a new headband ($141) to match.
7:30-8 p.m.: To avoid showing up fashionably late, Blair would grab another cab from the Waldorf penthouse to Butter in Midtown at 70 W 45th St., which adds about $15 to the total.
8-9 p.m.: Based on her order of seared squabs in Season 1, Blair would likely get the Slow-Roasted Scattered Acres Farms Chicken ($40) with a glass of champagne ($27) at Butter.
9-10:30 p.m.: After dinner, Blair might schedule a rendezvous with Chuck at the Empire Hotel for a drink. Her pick? The XOXO Gossip Girl cocktail at its rooftop bar — a mix of vodka, peach puree, and Prosecco for $20. The 15-minute cab there on 63rd Street would be about $11.
10:30-11:30 p.m.: At the end of the night, Blair would take yet another cab home (about $20), then would get ready for bed in her silk robe set ($175), while reading the latest from Gossip Girl.
Night total: $4,739
Overall, Being Blair For The Day Would Be $$$
In total, a breakdown of Blair's morning, afternoon, and night expenses including long-term costs would be about $10,200 a day. The bulk of her budget would include her skin care, fashion choices, and penthouse apartment (which she wouldn't be paying for daily). However, knowing that Blair isn't as well-off as Serena and Chuck may make you worry about her spending habits. While she may have had a rep to protect as the queen of Constance Billard, that luxe living often got her in financial trouble — like when Chuck had to step in to pay Blair's dowry to end her marriage to Prince Louis of Monaco.
If Chuck hadn't been there, Eleanor would've had to declare bankruptcy — even at the peak of her career, as one fan pointed out on Reddit that this all went down after Eleanor got her Victoria's Secret deal and her clothes into high-end detail stores. In Season 1, the Waldorfs would have been worth way less with Blair still spending thousands every day. Perhaps she should have been "living life with Blair Waldorf's taste on a Dan Humphrey budget."
Daily total: $10,200