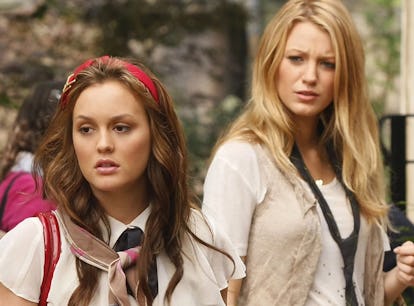 Wait, Is Gossip Girl Getting Rebooted Again... But With The OG Cast This Time!?
The CW
Attention, Upper East Siders, Manhattan's elite could be plotting a comeback. Leave it to everyone's favorite gossip blogger to stir up a juicy rumor in the most surprising way, because now, Gossip Girl fans are speculating that the beloved series could be getting a reboot... again. Yes, we all know HBO Max already rebooted Gossip Girl once, but you just can't keep a true drama queen down for long, it seems, because now the goss is that the original cast could be reuniting for a revival series.
The whole rumors were sparked by — what else? — social media. On May 16, the official Gossip Girl Instagram and Twitter accounts shared a photo of the original cast, along with a cryptic message: "Welcome back, Upper East Siders. After a long time away, I see it didn't take much time for you to dirty up the clean slates I gave you." Although there's no official announcement of another GG series, the post definitely seemed to tease some sort of return. Notably, the official social media accounts had been radio silent for months before this — the most recent post was on Feb. 4 to memorialize the HBO Max reboot shortly after its finale.
The possibility of a second Gossip Girl reboot is especially thrilling for fans given the photo selection of the show's original cast. The two-season HBO Max reboot followed a whole new generation of wealthy NYC prep school students, with only minor characters from the original show popping in for small cameos. The only major original character to make a return was Georgina Sparks, although the reboot did make several references to the last generation of power players, even providing some insight into their lives as adults.
One of the main reasons the GG reboot's abrupt cancelation bummed fans out was because they were holding out hope for Serena, Blair, Dan, Chuck, or another fan favorite from the original show to make an appearance at some point. Hopefully, that can now happen if this dishy new social media play really is teasing another revival. If there's one thing about Gossip Girl: she always finds a way to rise from the ashes.