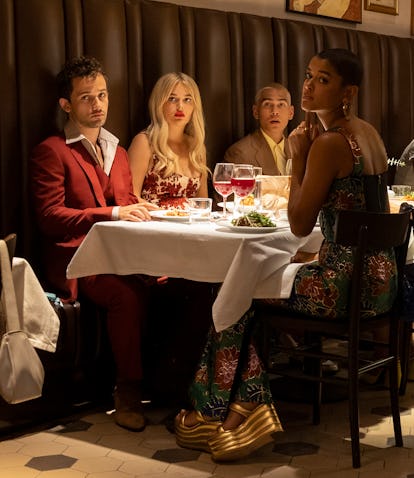 Gossip Girl Revealed An OG Couple Got Back Together... & Got Married
What a pleasant surprise.
HBO Max
Spoiler alert: This post discusses plot details from the Gossip Girl series finale. Before HBO Max's Gossip Girl reboot disappeared like a 24-hour-old Instagram story, the sequel series gave fans one last blast from the past. Although, it may have even taken hardcore GG followers a minute to recognize the finale cameo. Still, Jonathan Whitney's Gossip Girl return brought a ton of new information about what the OG cast is up to know, including a very heartwarming update about his roller-coaster relationship with Eric van der Woodsen.
It's been more than a decade since GG fans saw Jonathan during his final appearance in Season 4 of The CW drama in 2011, so it's understandable if viewers didn't immediately recognize Eric's kind-hearted ex when he showed up in the reboot series. But once he started talking, his identity was crystal-clear. Obie ran into Jonathan (and professional random teen drama guest star Andy Cohen) while at the Met Gala, and the GG vet was quick to recount his experiences with the mystery blogger back in the day.
"GG not only outed my husband Eric, she nearly destroyed his family and friends," Jonathan recalled. "And then she turned out to be my brother-in-law."
The story of Gossip Girl outing Eric that Jonathan referenced is a bit more nuanced than he let on. Back in Season 1 of the original show, it was actually Georgina Sparks who told Lily and Serena van der Woodsen that Eric was gay, which led to him coming out to his close friends and family. Then, Eric let Blair send a tip into Gossip Girl about his sexuality so he could get revenge on his jilted ex, Asher, by outing him. Oh, those messy early episodes!
After all that, Eric finally met a nice guy in Season 2: Jonathan. Their relationship was a bit rocky, but they seemed like a good fit... until Eric threw a wrench in it. When the youngest van der Woodsen's friendship with Jenny Humphrey turned sour following her rise to power, he started scheming with Blair on revenge plots to humiliate Little J. Upon seeing his boyfriend turn into a vengeful bully, Jonathan dumped Eric, and that's the last fans saw of him... until now.
Jonathan calling Eric his husband in his cameo appearance was an absolute treat for fans who loved their dynamic in the early GG seasons. And Jonathan wasn't just there to drop a marriage bombshell; he also became an integral part of revealing who took up the Gossip Girl mantle from Dan Humphrey once and for all. He agreed to pose as the showrunner interested in buying Gossip Girl's story rights, which lured Kate Keller out of hiding and coaxed her into admitting she's been GG all along.
His hubby and another old GG fave also helped put the final nail in Kate's coffin, even if they didn't physically show up. "Eric's at The Spectator now giving the exclusive to Nate," Obie told Kate, confirming that Nate is still in charge of The New York Spectator after he bought the paper back in 2012.
Unfortunately, since the Gossip Girl reboot wasn't renewed for a third season, Jonathan's cameo is the last time fans will get to check in with the OG cast. During its two seasons, the sequel series brought back a handful of beloved characters, including Nelly Yuki, Eleanor Waldorf, Cyrus Rose, Dorota Kishlovsky, and most impactful of all, Georgina Sparks. The show also dropped fun little tidbits about what everyone's up to know, like revealing Dan and Serena have a child. So, although the show's cancellation was sudden, at least it still got to give OG fans one last little treat before signing off for good.